PG&E Expects Charge of at Least $275 Million for Deadly Fire
(Bloomberg) -- PG&E Corp. expects to take a $275 million pretax charge in connection with a deadly fire this fall that its equipment is suspected of starting in the Sierra Nevada mountains of Northern California.
California's largest utility said in a filing Friday that it's "probable" it will incur a loss in connection to Zogg Fire, which killed four people in Shasta and Tehama counties. PG&E is cooperating with the probe, and it's possible the loss could be greater than $275 million, the company said.
The filing comes a day after the two counties filed a lawsuit against PG&E, alleging the fire was triggered by a falling pine tree that hit the company's equipment. PG&E had failed to remove the tree after it was identified as a potential threat, the suit alleges. The case highlights the challenges facing the utility in providing electricity to a region increasingly prone to wildfires as climate change shifts weather patterns.
"The company has got to get the wildfire thing under control," said Paul Patterson, an analyst with Glenrock Associates.
PG&E shares rose 0.8% at 10:17 a.m. in New York.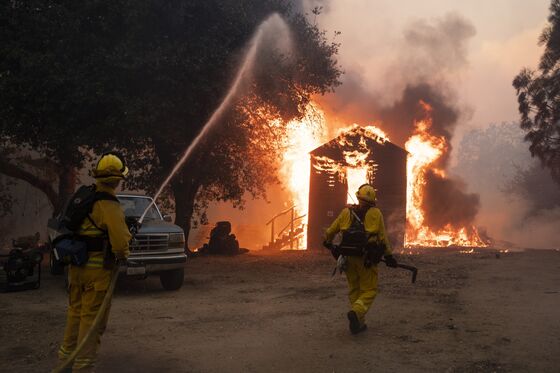 The Zogg Fire started Sept. 27, ripped through more than 56,000 acres (23,000 hectares) and destroyed 204 structures before it was contained two weeks later. The California Department of Forestry and Fire Protection, known as Cal Fire, took some of PG&E's equipment in connection to its investigation, which is ongoing.
"This is not the first time PG&E's negligence has caused a devastating fire," John Fiske, a lawyer representing Shasta and Tehama counties said in a statement.
In a statement, PG&E said it recognizes "the impact that the tragic loss of life and devastation that the Zogg Fire has had" on the region.
PG&E filed for Chapter 11 bankruptcy protection in 2019 after its equipment was blamed for a string of deadly fires, including the Camp Fire that killed 85 people.
PG&E renewed its liability insurance coverage for wildfire events in July 2020 for $867.5 million, the company said in its filing Friday. The company expects much of the charge to be covered by insurance.
PG&E said it does not have access to all of the evidence obtained by Cal Fire.