PG&E Debt Crash Leads Slump in Investment-Grade Utility Bonds
(Bloomberg) -- Bonds issued by utility companies are the worst performers in U.S. investment grade credit and PG&E Corp. debt is leading the rout.
Utility bonds have fallen 6.5 percent this year, almost double the loss of the overall market, which is having its roughest year since October 2008, according to data compiled by Bloomberg.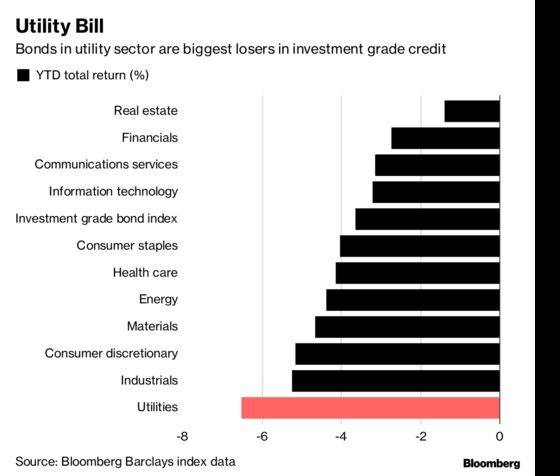 The biggest losers in the utility sector are bonds from PG&E -- some of which have dropped more than 30 percent -- making it the weakest investment grade issuer this year. California's biggest utility was plunged into crisis by the possibility that its equipment sparked one of the catastrophic wildfires ravaging the state. Underscoring its financial straits, PG&E said late Tuesday it had exhausted its revolving credit line.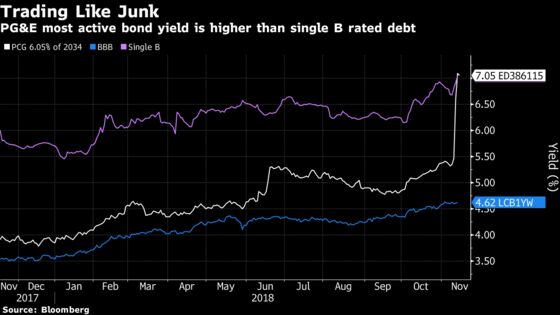 Utilities account for 3.3 percent of the Bloomberg Barclays US Corporate Bond Index. PG&E bonds have a 0.29 percent weighting.
The second-worst performing sector of investment grade credit is industrials, down 5.2 percent, followed by consumer discretionary, which has lost 5.1 percent. The real estate sector is outperforming the index, though it's still reporting a 1.4 percent loss.
Ford Motor Company is the second-worst performing issuer in high-grade bonds, down more than 16 percent this year.