California Utility Cuts Power to 60,000 in Proactive Move to Prevent Wildfires
(Bloomberg) -- PG&E Corp. has deliberately left customers in the dark for the first time as a precaution to prevent wildfires from breaking out.
Almost 60,000 customers in six counties across the Sierra Nevada foothills and Northern California wine country were blacked out Sunday during a windstorm, according to Melissa Subbotin, a company spokeswoman. About 70 percent of those customers will have electricity service restored by midnight, PG&E said in a statement late Monday.
The utility owner could be on the hook for as much as $17.3 billion in liabilities if its equipment is linked to 2017's blazes, JPMorgan Chase & Co. estimated in August. Investigators have already said that PG&E violated state laws in 11 of last year's fires. The company took a $2.5 billion pretax charge in the second quarter that was tied to some of those blazes. The state still hasn't released its report on the Tubbs fire, the deadliest one last year.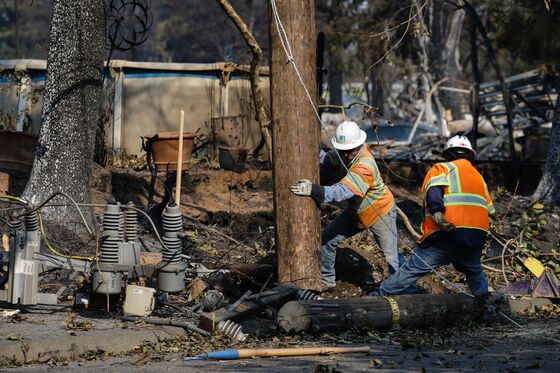 PG&E plans to inspect each affected power line for wind damage before restarting it. Inspection crews were deployed early Monday morning, Subbotin said. The region was buffeted with wind gusts above 50 miles (80 kilometers) per hour Sunday, according to the National Weather Service.