PG&E Credit Cut to Brink of Junk by Moody's on Wildfire Risk
(Bloomberg) -- PG&E Corp.'s credit rating was cut to the brink of junk amid doubt about its ability to manage liabilities from the California wildfires.
Moody's Investors Service lowered the rating to Baa3 from Baa2, the second-lowest level of investment grade, with the possibility of further downgrade, according to a statement. PG&E's grade reflects an exposure of about $10 billion to the 2017 wildfires, and uncertainty around 2018 liabilities, said Moody's, which also reduced the utility's Pacific Gas & Electric Co. subsidiary to Baa2.
"The rating downgrade reflects the material exposure to new potential liabilities associated with the Camp Fire and the uncertainties associated with how the fire-related liabilities will be recovered," Moody's analyst Jeff Cassella said in the statement.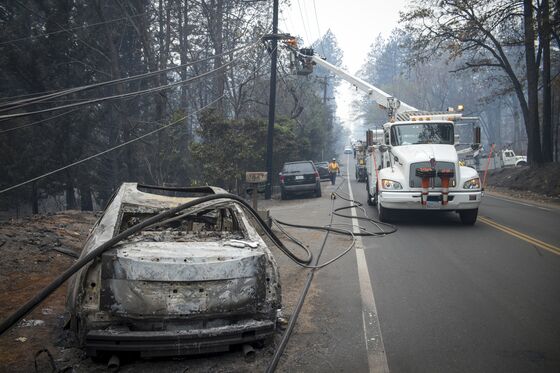 California's biggest utility said this week it exhausted its credit facilities to boost cash, a move that was widely seen to be in anticipation of a credit rating downgrade, and raising concerns it may have to eventually file for bankruptcy. A California Public Utilities Commission official told investors on a conference call that the agency doesn't want PG&E to go into bankruptcy, according to a person familiar with the matter.
The Moody's downgrade affects $18 billion of corporate debt, according to the statement. If PG&E is held accountable for the Camp Fire under California's "inverse condemnation" law, Moody's expects the company's liabilities will likely exceed PG&E's liquidity reserves and impact its ability to access the capital markets temporarily, the statement said.
Moody's view does not incorporate an imminent "strategic bankruptcy" at this time because it is too early to determine if PG&E equipment will be found to be a cause of the fire, it said. The ratings firm believes that California regulators and legislators will continue to support the financial health of the state's utilities, Moody's said.