PG&E and Edison Rise as California Passes Bill for Fire Costs
(Bloomberg) -- PG&E Corp. and Edison International rose after California lawmakers passed legislation designed to help the utilities pay for billions of dollars in potential liabilities from wildfires that ravaged the state last year.
The state Assembly and Senate approved a wide-ranging plan late last week that includes directing regulators to allow the utilities to sell bonds backed by customer bills to cover fire costs that are deemed reasonable. In addition, the measure directs regulators to limit how much utility shareholders would cover from the 2017 fires that killed dozens of people.
PG&E rose as much as 5.4 percent, the most intraday in a week. The company's shares were up 3.4 percent to $47.74 at 12:45 p.m. in New York. Edison climbed as much as 2.5 percent.
The bill now heads to the desk of Governor Jerry Brown, who has supported helping PG&E dodge fiscal distress.
The move is a key victory for PG&E, which may owe as much as $17.3 billion from the blazes that tore through Northern California wine country. The utility owner raised the prospect of bankruptcy as it lobbied lawmakers for help and has lost more than $11 billion in market value in the last year. While the bill doesn't go as far as PG&E wanted toward alleviating its liabilities, it could help ease Wall Street's concerns.
Bank of America Merrill Lynch and Evercore ISI both upgraded PG&E's stock after passage of the legislation. The bill is expected to create a path "to apportion and pay off wildfire claims without causing the company significant financial distress," Greg Gordon, an analyst at Evercore, said in a research note Tuesday.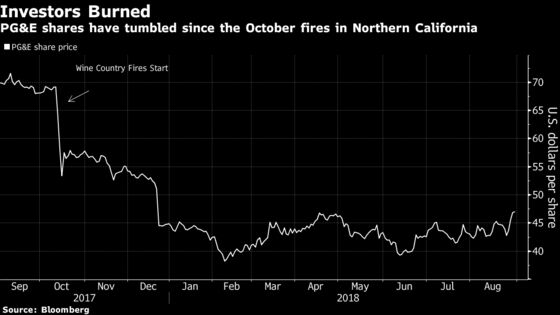 The measure would allow PG&E to sell bonds backed by customer bills to cover costs from last year's wildfires if regulators determine the utility incurred those expenses by acting in a reasonable manner.
If regulators decide PG&E didn't act reasonably and has to cover fire costs on their own, regulators would have to conduct a stress test to determine how much the utility can pay without going bankrupt. PG&E could charge ratepayers for costs above that amount, even if those expenses were due to negligent behavior.
The bill "is a common-sense solution that puts the needs of wildfire victims first, better equips California to prevent and respond to wildfires, protects electric customers and preserves progress toward California's clean energy goals," PG&E said in a statement late Friday.
California investigators have already named PG&E power lines and other equipment as the source of 16 fires last year. In 11 of those instances, investigators said they found evidence that PG&E violated safety laws. Officials haven't released the results of a probe into the most destructive of the 2017 California wildfires, which combined destroyed thousands of homes and killed 44 people.
Edison could face as much as $3 billion in liabilities for a wildfire that tore through parts of Southern California in December, according to report by Bloomberg Intelligence. California investigators have yet to release the results of a probe into that blaze.
PG&E was joined by Edison and other California utilities in lobbying lawmakers for financial help in the face of what they say is a growing threat from wildfires. Brown had proposed relaxing a state law that holds utilities liable for damages if their equipment is found to have caused a blaze, even if they followed safety rules. But lawmakers rejected that idea.
In addition to allowing utilities to float bonds to cover wildfire costs, the bill headed to the governor's desk calls for improved forest management and increased utility spending on grid infrastructure. Backers say it strikes a balance between protecting ratepayers and shielding PG&E from financial harm.
"This is about protecting ratepayers, not helping utilities,'' State Senator Bill Dodd, a Democrat from Napa and co-chair of the conference committee, said in a statement before the vote. "The fact of the matter is ratepayers would be hurt in a utility bankruptcy."
Critics, on the other hand, said the bill amounted to a giveaway to PG&E.
"This is a bailout in sheep's clothing," said Mark Toney, executive director of the Utility Reform Network, before the vote. "PG&E gets to bill for costs resulting from negligent and even criminal behavior."