U.S. Shot Supply To Hit 240 Million Next Week, White House Says
(Bloomberg) -- The U.S. will have received 240 million doses of vaccine by the end of this month, enough to fully inoculate 130 million people, with Pfizer Inc., Moderna Inc. and Johnson & Johnson all on pace to hit quarterly production targets, a senior White House aide said.
The administration expects at least 11 million doses from J&J next week, putting them on track to hit their mark of 20 million doses by the end of March, Jeff Zients, Covid-19 response coordinator for President Joe Biden, said Friday in a briefing. J&J's vaccine is the most recently authorized of the three in the U.S. and its production is still scaling up.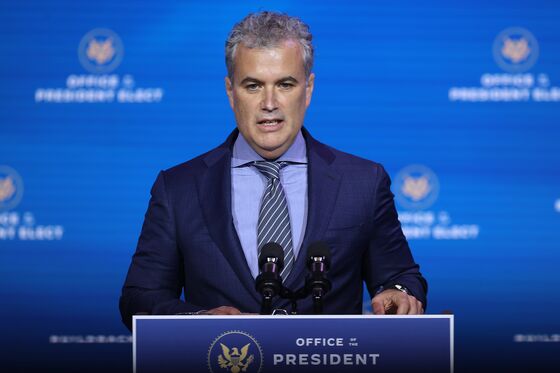 "We've done a lot to help J&J, we're monitoring that very closely and we anticipate a significant increase at the end of this month, which will enable them to hit at least 20 million doses," Zients said. J&J "will achieve across time a more regular cadence" in production, he said.
It's the first time that the White House has said the March 31 targets are set to be met by all three manufacturers. Moderna has pledged 100 million doses by the end of March. Pfizer had committed to the same, though Chief Executive Officer Albert Bourla said he expected to deliver 120 million.
The two drugmakers have "maintained a steady cadence of production," Zients said.
The Moderna and Pfizer vaccines are two-dose regimens, while J&J's is given in a single shot.
Biden announced Thursday that he had doubled his shot goal and now wants to give 200 million in his first 100 days in office. The U.S. will continue to expand the sites offering inoculations, as well as the number of people qualified to give them, Zients said, and he expects the daily pace of vaccinations to increase.
"It is possible we can build off of the 2.5 million average that we've had for the last 14 days," he said.
Covid cases and hospitalizations are also rising, and Centers for Disease Control and Prevention Director Rochelle Walensky again used the White House briefing to sound the alarm, asking Americans to continue wearing masks while avoiding crowds and travel.
The seven-day average of Covid cases is 57,000 per day, a 7% increase from a week earlier, she said in the briefing. Hospitalizations have also risen slightly.
"I remain deeply concerned about this trajectory," she said on the call. "We know from prior surges that if we don't control things now, there is a real potential for the epidemic curve to soar again."