Pfizer CEO's Transition Leaves Wall Street Divided on M&A Strategy
(Bloomberg) -- Pfizer Inc. Albert Bourla's promotion to CEO isn't surprising and should be viewed positively by investors, analysts say. While Barclays sees the new chief leaning toward more aggressive deal-making, Bloomberg Intelligence doesn't see a marked change in strategy, given Bourla's long tenure at Pfizer.
Shares rose 0.8 percent at 11:11 a.m. New York time and are now up almost 23 percent this year as investors piled into health-care stocks and rotated out of technology and trade-exposed holdings.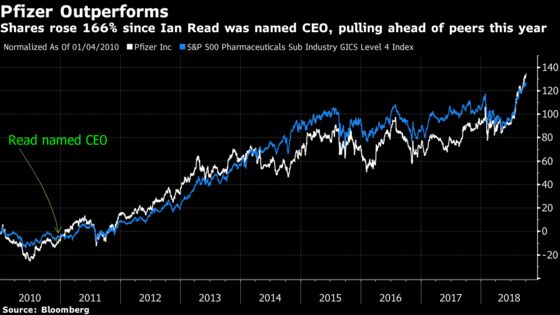 Here's what analysts say about the change:
Barclays, analyst Geoff Meacham
"Today's announcement does not come as a surprise following Albert Bourla's previous promotion to the COO position in November 2017, which was a newly created role, and it is clear an orderly succession plan had been in the works for some time...We think the impact is likely to be judged favorably by investors."
"Bourla could be more aggressive when it comes to large-scale M&A appetite given the company's need to generate growth beyond 2020...Absent the right deal, our concerns remain surrounding the company's long-term growth profile and continued headwinds facing key franchises, supporting our Equal Weight rating."

JPMorgan, analyst Christopher Schott
"Overall, we have seen a meaningful shift in the Pfizer narrative away from potential M&A to the company's organic growth prospects post the Lyrica patent expiration in 2019. While admittedly we expect growth will slow in 2019/2020, we see a distinct re-acceleration of top and bottom line growth for Pfizer in the 2021-2025 period."
"Further, we see Pfizer with significant capital deployment optionality, which should translate to either growth accretive M&A (tuck-in deals) and/or a significant share repurchase program in the near-to-intermediate term."
"We remain Overweight."
Jefferies, health-care specialist Jared Holz
The changes were "very much expected based on investor conversations. Do not think should alter the way the Street look at the stock into YE and into 2019."
Regarding a change in strategy, more M&A and a business split are "both still equally on the table as far as acquisitions or divesting non-core businesses."
Bloomberg Intelligence, analyst Sam Fazeli and Michael Shah
The transition "is unlikely to bring a marked change in strategy (M&A vs split), given his long tenure at the company and similar pedigree to his predecessor."
"Some new drug candidates and line extensions -- such as cancer drugs Bavencio, talazoparib and lorlatinib -- have formidable competition from better products. So Pfizer needs the help of higher-risk drugs such as tanezumab for chronic pain and rivipansel for sickle cell disease. Pfizer's latest business reorganization may be a prelude to an eventual business split, in our view."