Petrobras Analysts Say New CEO Will Curb Political Interference
(Bloomberg) -- Political interference in Brazil's state-controlled energy giant Petroleo Brasileiro SA is expected to decline under its next chief executive officer, Roberto Castello Branco, which analysts say will reduce downside risks to the stock.
Castello Branco is a very competent and "likely to continue with the previous management's market-friendly efforts," Pedro Galdi, an analyst at Mirae Asset, said by phone. Petrobras shares rose as much as 1.9 percent on Monday after the announcement of his appointment. Outgoing CEO Ivan Monteiro is scheduled to leave his post on Jan. 1.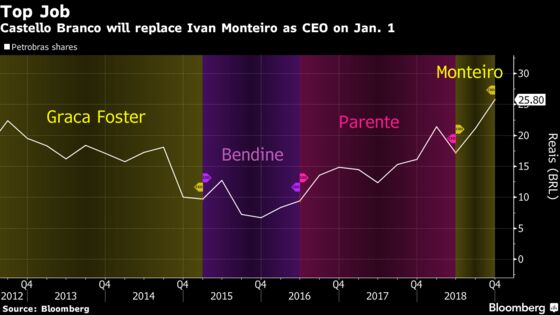 Here's what analysts are saying about the new CEO:
James Gulbrandsen, NcH Capital

Castello Branco's appointment is fantastic

"We now have the University of Chicago running major Brazilian institutions"

While Jair Bolsonaro and Paulo Guedes will indeed depend on Congress for major reforms, the amount institutional improvements they can make at major institutions such as Petrobras and BNDES is unprecedented
Danilo Onorino, Dogma Capital SA
Monteiro was making the right decisions on governance and that is expected to continue
Castello Branco is academic, not corporate; he shouldn't make changes to corporate governance
Petrobras isn't as much of a concern as in the past
Petrobras's yield is seen as expensive; company needs to be upgraded to investment grade
Onorino would like to see Petrobras continue its restructuring
Pavel Molchanov, Raymond James Financial
Simply making appointments doesn't mean much; investors should focus on what the new administration actually does on energy policy

For example, will the administration protect Petrobras's fuel pricing autonomy on a consistent basis?
While it's still early to assess the possible changes in the company's strategy, as long as the current agenda focused on value-creation and deleveraging remain in the place, Petrobras's investment case remains untouched
JPMorgan reiterates its overweight rating; mentions lower risks associated with politics as the electoral process is over
Investors should welcome Castello Branco's appointment; besides a liberal background, Castello Branco has publicly defended the acceleration of Petrobras's asset sales program and is opposed to price controls