Peru's Sol Hits 10-Week High as Leftist President Leans Center
(Bloomberg) -- Peru's currency breached a key level and is heading toward its strongest since President Pedro Castillo came to office two months ago, as the former union leader takes an increasingly moderate stance.
The sol rallied 1.38% on Wednesday, the best performer out of 24 emerging-market currencies tracked by Bloomberg. It strengthened past 4 per dollar to 3.9790, the highest since July 27. 
The currency has rallied for four days after Castillo replaced Prime Minister Guido Bellido, a left winger who had proposed the nationalization of Peru's largest gas field. He also reappointed long-time central bank chief Julio Velarde. Bellido was replaced by Mirtha Vasquez, who immediately said that redrafting the constitution -- one of the biggest concerns among investors -- wasn't a priority for the new government.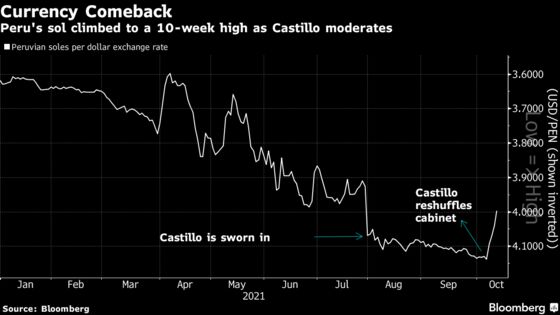 The currency "became very attractive because the political situation has improved a lot," said Benito Berber, head of Latin America economics at Natixis in New York. "The market was looking for a sort of risk-on day to buy PEN."
The sol has gained 4% since Thursday, rallying along with dollar bonds and the country's stocks.