Peru Selloff Abates With Leftist Seeking to Reassure Investors
(Bloomberg) -- Peruvian markets rebounded from Monday's losses as the leading presidential candidate sought to reassure investors who were preparing for a drawn-out count of Sunday's vote.
Benchmark bonds pared more than half of the decline as the leftist Pedro Castillo, who has an 80,000-vote lead with more than 95% of ballots counted, sent a statement saying he would pay the country's debt and keep central bank independence. The sol and the main stock gauge edged higher.
Castillo said in a statement late Monday that if elected his administration would maintain a dialogue with business leaders. He also ruled out nationalizations, the confiscation of savings and any price, currency or import controls. He reiterated a need for higher social spending on health care and education.
"We will keep an open and wide dialogue with various business sectors and with honest entrepreneurs who play a fundamental role in the country's industrialization and development," he said in the statement.
Castillo's opponent, the market favorite Keiko Fujimori, said the rival party has been "distorting or delaying" the results of the election. She provided no evidence to back up her claim, but said she would do so. Fujimori, who lost by a razor-thin margin in the 2016 runoff, has said that she regrets not seeking a recount five years ago.
Peru is headed for days of political uncertainty as the final votes are tallied and officials contend with any sustained dispute. But the small number of votes separating the contenders also provided relief to investors encouraged by the idea that neither candidate would have the political mandate to overhaul one of South America's steadiest economies.
"The divided legislature and the divided country of a weak, second-round victory should offer some counterchecks to radicalism," said Siobhan Morden, head of Latin America fixed income at Amherst Pierpont Securities in New York.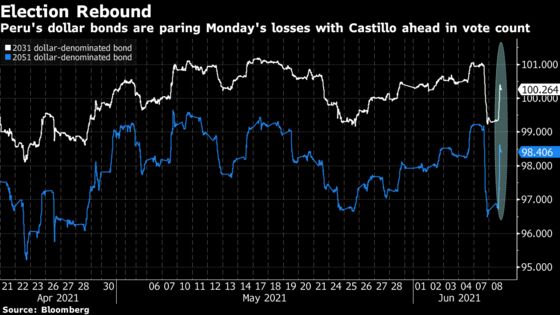 Castillo, a rural school teacher who promises to redistribute wealth, had 50.2% of the votes with 97.8% of the ballots counted. Fujimori, the daughter of imprisoned former President Alberto Fujimori, came second with 49.8%.
Peruvian assets tumbled on Monday, with the sol posting its worst single-day performance in a decade, as investors contemplated the possibility of a left-leaning government in the Andean country.
Those fears seemed to abate Tuesday. Benchmark bonds due in 2031 headed for their biggest gain since November, rising by 1 cent to trade at 100 cents on the dollar while the yield dropped to 2.74% as of 3 p.m. in New York. The sol gained 0.4% to 3.923 per dollar. The S&P/BVL Peru General Index added 0.1%.
"Whoever wins, they're winning by a hair -- there's no way they can come in and say we're going to change everything," said Ray Zucaro, the chief investment officer at RVX Asset Management in Miami. "It's a slight change one way or another."
Fujimori, who is under investigation for corruption and campaigned while out on bail, has vowed to save the country from "communism" by preserving a liberal economic model and boosting cash payments to families affected by the pandemic.
Castillo, by contrast, has pledged to increase taxes on mining and oil companies to invest on education and health. He blames the country's inequality on the ruling elite whom he says has long been content to run Peru from Lima while ignoring large swathes of the country.
Meanwhile, Fujimori tried to raise doubts about the vote.
"A series of irregularities have been occurring," she told reporters on Monday evening, adding however that she was optimistic about her chances of winning once votes from Peruvians living abroad are fully accounted for. "We have a lot of faith, we trust and we will carefully await the final results."
Castillo, responding to Fujimori's claims, said that he will be the first to enforce the will of the Peruvian people and denied that his party is disrupting the vote count process.
Local and international observers have said they believe voting was fair. The Organization of American States didn't detect any major problems during the Sunday election, according to a preliminary assessment.
Teneo Intelligence, a consulting firm, said in a note that a definitive result may not come until the end of the week or later.
"Whoever takes the presidency is going to find a very divided country that's going to make it hard for radical structural changes to be implemented," said Gustavo Medeiros, deputy head of research at Ashmore Group in London.