Peru Assets Drop After President Calls for New Constitution
(Bloomberg) -- Peru's stocks, bonds and currency weakened after President Pedro Castillo asked congress to pass a law to nationalize the Camisea gas field and called for a major reform of the constitution -- both moves that are feared by investors.   
"We urge congress to make a law for the statization or the nationalization of Camisea gas, to give it to all Peruvians," Castillo said Monday afternoon during a tour of cities in the north of Peru.  
In a separate speech he said, "Peru shouts in the street that it's necessary to make major constitutional reforms, and these constitutional reforms should be undertaken by the people."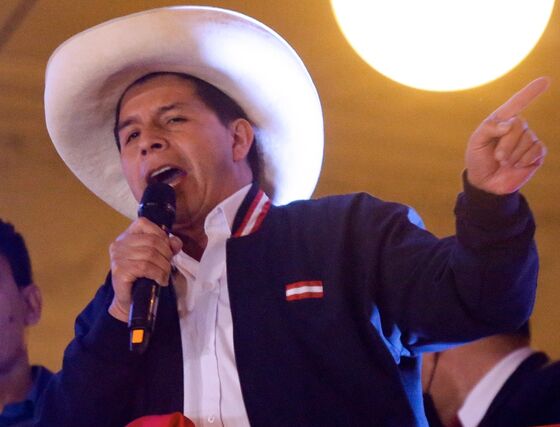 The Peruvian sol weakened 0.4% to 3.99 per dollar, among the worst performers in emerging markets Tuesday, and the nation's benchmark equity index fell 1.1%. 
BBVA strategist Mario Castro closed his recommendation to buy Peru's 2028 local currency bonds as "the recent rally has run out of steam," while political noise could continue to take a toll on their performance. 
The nation's assets rallied earlier this month after Castillo named a new cabinet perceived as more moderate by investors, but his radical speeches on Monday rekindled concerns over his government's plans.
Still, Castillo, who doesn't command a majority in congress, would find it difficult to implement these policies, said Alvaro Vivanco, head of emerging-market strategy at NatWest Markets in Stamford. 
"The risk of that kind of speech will always be there. What's important is whether there's political space to do it," Vivanco said, in reply to written questions. 
Peruvian lawmakers this month a law that limits the president's power to dissolve congress, which will make it harder to for him to force them to approve a constitutional reform.  
Meanwhile, in Lima, the new Prime Minister Mirtha Vasquez attended congress to ask lawmakers to back her and the cabinet in a vote of confidence, but the vote was delayed until Nov. 4 after a lawmaker from Castillo's party died of natural causes.