Peru Holds Key Rate at Nine-Year Low Amid Slow Growth
(Bloomberg) -- Explore what's moving the global economy in the new season of the Stephanomics podcast. Subscribe via Apple Podcast, Spotify or Pocket Cast.
Peru's central bank kept borrowing costs unchanged at the lowest level since 2010 as policy makers gauge the need for additional stimulus amid delays to public works spending and slowing global growth.
The central bank board maintained the benchmark lending rate at 2.25% on Thursday, matching the forecasts of all 14 economists surveyed by Bloomberg.
The bank's inflation forecast has a "moderate downward bias" given the possibility growth in domestic demand will be slower than expected, the board said in a statement accompanying the decision.
The board will monitor "new information about inflation and its determinants to consider changes to the monetary policy position."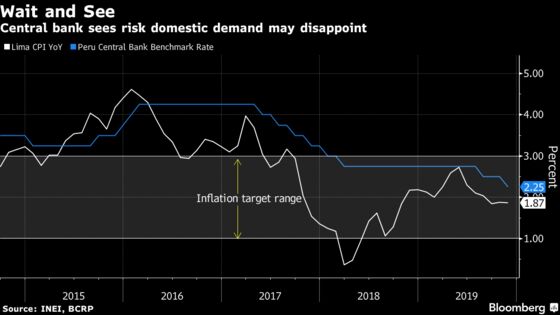 The monetary authority last month unexpectedly cut the rate for a second time this year in a move officials described as preventive given concern the economy is recovering more slowly than expected. Delays in the government's $10 billion annual public works program is dragging on economic growth and could add pressure for more central bank easing next year if the government doesn't turn the situation around.
The central bank last week forecast the economy will expand 2.5% this year, down from a forecast of 2.7% in September and 4% in March. Central bank President Julio Velarde said growth is expected to rebound to 3.8% next year on the back of fiscal and monetary stimulus. With the real interest rate close to zero, the current monetary stance is "very expansive," he said.
Next month's congressional election is a source of concern for investors as it's unclear where the many first-time candidates stand on economic issues, said Grippa. That's likely to keep a lid on business sentiment, which strengthened in November, he said.
President Martin Vizcarra last month announced a stimulus package that included measures to unblock $5 billion of stalled public works projects next year. His government targets 9% growth in public investment in 2020.
There are signs external risks are easing. Trade tensions are easing between China and the U.S., Peru's biggest trading partners, and exports rose in October for the first time in 13 months as copper and gold sales increased.
Meanwhile, annual consumer price growth was virtually unchanged in November, remaining below the mid point of the central bank's target band for a third consecutive month.