Peru Court Frees Opposition Leader Keiko Fujimori From Prison
(Bloomberg) -- Peruvian opposition leader Keiko Fujimori won an appeal against her preliminary detention as part of a probe into illicit campaign donations, handing a political victory to the two-time presidential candidate.
A Lima appeals court ordered the immediate release of Fujimori late Wednesday, less than two days before a temporary detention order was due to expire, according to images broadcast on state television.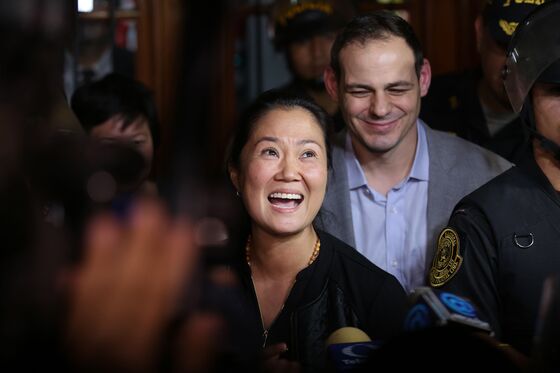 Fujimori was arrested unexpectedly last week as she answered a summons to face questioning over donations for her 2011 presidential bid. Prosecutors allege her campaign received $1.2 million from Brazilian builder Odebrecht SA and disguised the money as donations from individuals and fundraising events. Fujimori denied the allegations and said her detention was politically motivated.
Speaking during the hearing, Fujimori said she has always cooperated with the investigation against her and described her arrest in the prosecutor's office as an ambush. "I will never flee the country. I've never obstructed justice. My mere presence in that building upends those arguments,'' she said.
The former lawmaker finished second in the 2011 and 2016 presidential elections, and her party, Popular Force, controls Peru's unicameral Congress. Her arrest came a week after a court ordered the imprisonment of her father, former autocrat Alberto Fujimori, who had his political pardon overturned in a separate case.
Considered Peru's most powerful person in an August poll, Keiko Fujimori's popularity has fallen to an all-time low after she became embroiled in a separate judicial corruption case.
Judge Richard Concepcion ordered her arrest last week, along with 19 former campaign officials, after prosecutors alleged she may have sought to interfere in the Odebrecht investigation using contacts in the judiciary and Congress.
Fujimori's two closest advisers were detained during an Oct. 15 march in downtown Lima while her secretary, Carmela Paucara, turned herself in to police on Tuesday.
Prosecutor Rafael Vela said witness testimonies and documents obtained during raids in recent days confirmed there were plausible risks of flight and obstruction of the probe. The raid uncovered evidence of what appeared to be bribes given to witnesses.
Vela didn't indicate whether his office will seek a pre-trial detention order.
In a raid on Paucara's house, prosecutors found a folder labeled "Vizcarra" that contained details of 17 accusations against President Martin Vizcarra, mostly relating to his term as a regional governor, newspaper El Comercio reported on Wednesday.
Odebrecht is at the center of the so-called Carwash bribery investigation, which has ensnared Peru's last four heads of state. Former President Pedro Pablo Kuczynski resigned in March after facing allegations that a firm he owned also took money from the Brazilian construction company, which has admitted to doling out millions of dollars in bribes across Latin America.