Peru Central Bank to Keep Wait-And-See Mode: Decision Day Guide
(Bloomberg) -- Peru's central bank is expected to keep borrowing costs at a nine-year low to bolster economic growth that suffered a sharp deceleration in 2019.
Thirteen of 15 analysts surveyed by Bloomberg expect the bank's board to maintain the benchmark lending rate at 2.25% for a third consecutive month Thursday. Two of them forecast a quarter-point cut.
Slow growth led policy makers to cut rates twice in the second half of last year. With the real interest rate now near zero, policy makers may now leave it to fiscal policy to provide additional stimulus. There were promising signs from some indicators in January. Public investment surged almost 90% last month from a year earlier as local governments ratcheted up spending, while business sentiment continued to recover from a slump last year.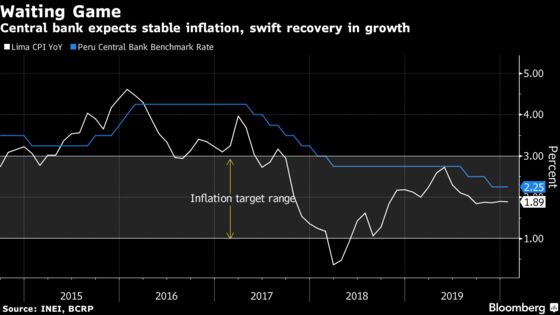 The central bank will likely wait until the second half of the year to consider easing, according to Luis Ortega, an analyst at Banco de Credito del Peru. And even then it may only cut if inflation expectations decline, public investment disappoints and growth in non-primary sectors continues to decelerate. "We expect the central bank to remain in wait-and-see mode for the time being," he said.
The monetary authority will announce its decision on its website at 6 p.m. in Lima, together with a statement from its board.
Here's what to watch for:
In its statement, the central bank may reiterate that the risk of weaker-than-expected growth in domestic demand persists and could also allude to global risks from the coronavirus outbreak. Peru's $222 billion economy likely expanded little more than 2% last year, its slowest pace in a decade, as weaker global growth hurt copper exports and declining public investment weighed on domestic demand. Still, tax revenue and formal employment growth point to underlying strength in the economy, central bank President Julio Velarde said Jan. 28. The bank sees the economy expanding 3.8% this year, while analysts are a little less optimistic.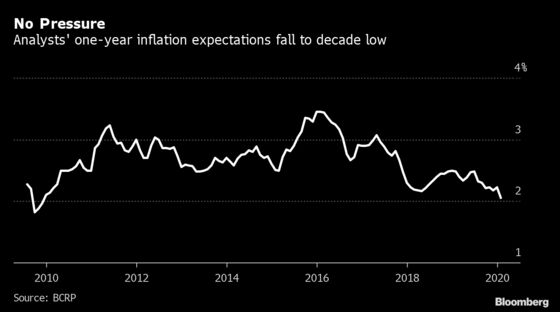 Annual inflation came in at 1.9% in January, and has held just below the mid-point of the central bank's target range for five months. Peru's consumer price gains are the slowest among Latin America's major economies. The central bank sees inflation holding at around 2% though in recent statements the board has said its forecast has a moderate downward bias. Analysts surveyed by the bank last month forecast inflation at 2.1% in 12 months, the slowest in a decade.