Perelman's Discount Drug Company Brushes Off Buyout Approaches
(Bloomberg) -- Ronald Perelman's RXSaver expects revenue to jump 300% this year as it draws interest from prospective buyers in a crowded market for services that save consumers money on prescription drugs.
Yet the company, affiliated with online coupon and discount site RetailMeNot Inc., is looking at ways to expand on its own. Management isn't in discussions to sell RXSaver, but it has been "approached by interested parties," a company official told Bloomberg. "We are not surprised that industry participants have taken notice given the dramatic growth we have experienced in such a short time."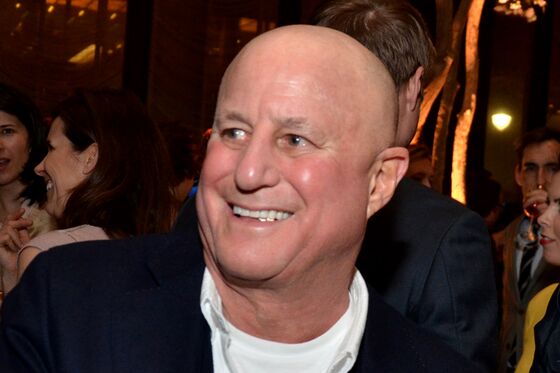 Backed by Perelman's MacAndrews & Forbes Inc., RXSaver isn't health insurance. Instead, it lets consumers compare discounted prescription drug prices at nearby pharmacies and offers savings through coupons and bar codes on its website and mobile app. The customers pay at the drugstore, and RXSaver gets a cut of the sale as a transaction fee, which is included in the base price shown to the consumer.
It's hardly alone in the burgeoning business. Sites including GoodRX.com, SingleCare.com, Americaspharmacy.com and SearchRx.com provide search engines that offer similar savings and transparency.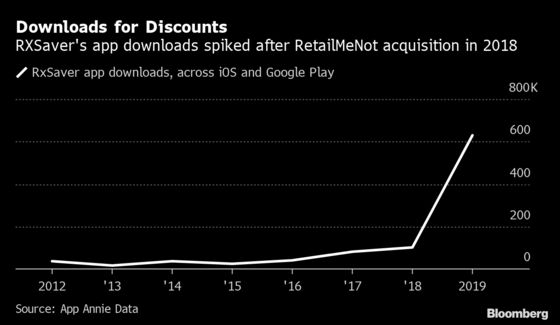 The potential can be seen in the 18.6 million downloads of rival GoodRX since 2011, including 1 million in January, according to App Annie, the mobile analytics platform. It's been No. 1 or No. 2 for medical app downloads on U.S. iPhones for the last 90 days.
RxSaver has tallied only 1.2 million downloads since 2012, according to App Annie. But this year it expects revenue and transactions will be four times more than in 2019, according to Chief Executive Officer Marissa Tarleton. Consumers are projected to save around half a billion dollars through RXSaver's program in 2020 alone, she said in an interview.
"This is an important initiative for MacAndrews & Forbes and me personally as we are helping millions of people by increasing access to affordable prescription medication," Perelman said in a statement to Bloomberg.
MacAndrews & Forbes, where Perelman serves as chairman and chief executive officer, controls RetailMeNot's parent company, Harland Clarke Corp., and additional business segments including Valassis.
Harland, a payment and marketing services company, has about $3.4 billion of debt trading at steep discounts. Its bonds due 2022 trade around 87 cents on the dollar, after falling as low as 72 cents before the company reached a debt deal with its creditors that included a $100 million cash infusion from MacAndrews.
Price transparency has been a major focus as pharmaceutical companies come under scrutiny for raising costs beyond what consumers can pay. RXSaver and its rivals are trying to solve the issue with technology, but they're up against giant drug-store chains and middlemen that want to maintain their profit streams.
Drugmakers frequently give pharmacy-benefit managers discounts in the form of rebates to win coverage for their branded medicines. But the pharmaceutical companies have complained that PBMs often pass little of the savings from rebates directly to patients with the highest costs.
"If you don't have insurance or have to meet a high deductible, this company can be a lifesaver," said Stephen Buck, a pharmaceutical supply chain consultant and chief executive officer of Courage Health. "They save the consumer hundreds of dollars by avoiding the usual and customary cash price." Buck founded a startup that helped people with their medications that eventually was sold to GoodRX.
RXSaver's service doesn't require registration or membership, and it doesn't collect or sell consumer data, Tarleton said; consumers can search products anonymously. It's honored at most CVS, Walgreens, Rite Aid, Costco, Walmart, Target, Kmart, and Shopko outlets, according to its website, plus groceries such as Kroger, Safeway, and Wegmans.
RetailMeNot bought RXSaver in March 2018 for an undisclosed price. The acquisition was part of the company's plans to expand beyond traditional retail into the health-care space. Positioning it alongside RetailMeNot lets it "connect what people are buying in the front of store to what they are buying in the back," Buck said. "It's a one-stop shop."