PepsiCo Shares Fall as Higher Costs Overshadow Beverage Rebound
(Bloomberg) -- Indra Nooyi managed to return PepsiCo Inc.'s key drinks business to growth in her final quarter leading the company, but it wasn't enough to satisfy investors.
Shares of the snack and beverage maker slid on Tuesday after the company cut its full-year profit forecast and said it had no plans to invest in cannabis. PepsiCo also reported higher transportation and aluminum costs and said it would raise prices on snacks and drinks.
"We remain concerned by mounting commodity pressures," Wells Fargo Securities LLC analyst Bonnie Herzog said in a research note on Tuesday. She also cited higher costs and currency pressures, while noting the beverage unit's performance was encouraging.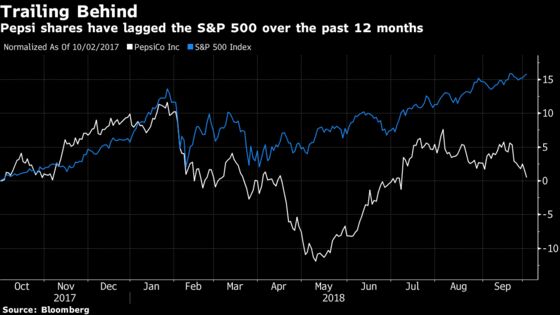 Nooyi is leaving PepsiCo's top job on Wednesday after 12 years. She's passing the reins to deputy Ramon Laguarta. In the third quarter, PepsiCo's North American beverage unit returned to growth, helping the company beat earnings estimates. That unit, however, also saw operating profit erode on higher costs.
The shares dropped as much as 2.7 percent to $107.70 in New York, the biggest decline in almost two months, before paring the loss to about 1 percent. The stock had fallen 7.7 percent this year through Monday, while Coca-Cola Co. rose 0.8 percent over the same period.
A lower tax rate helped boost core earnings per share to $1.59, which is 2 cents above the average prediction from analysts. PepsiCo warned that full-year core earnings per share would be $5.65, down from its prior expectation of $5.70, citing the strong dollar.
In addition to posting growth overseas, the maker of Mountain Dew and Tostitos got a boost from its Frito-Lay unit, the salty-snack powerhouse that has buoyed PepsiCo amid a drop in soda consumption.
"The portfolio continues to work very well," Johnston said in an interview.
Amid its recent slump, Nooyi had vowed to fix the beverage unit. The business has been a sore spot for PepsiCo as consumers eschew soda. In addition to pursuing cost cuts to boost profit, Nooyi has diversified the company's portfolio, adding healthier options to adapt to changing preferences.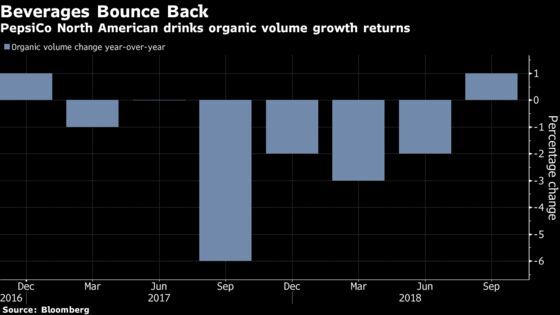 PepsiCo's results showed that its core brands still have some strength, however, with beverages getting a boost from Pepsi, Mountain Dew and Gatorade. That boost came after Pepsi increased its advertising budget in a bid to fend off longtime rival Coke.
"We always want to make sure we're spending competitively," he said. "Advertising matters in beverages."
Frito-Lay is paying more to transport its products, part of a broad hike in freight expenses that has hampered U.S. companies. PepsiCo is raising prices on its drinks and snacks to offset the higher costs, Johnston said. He added that the company imports some aluminum from Canada and is still trying to ascertain whether the new trade deal between the U.S., Canada and Mexico will lower prices of the metal.
Nooyi, who announced in August hat she would step down as CEO, will remain chairman until early 2019. Born in India, she was PepsiCo's first first woman CEO and also its first foreign-born CEO.
Laguarta, who is from Barcelona, will take over a company that generates more than half of its revenue from food. Frito-Lay dominates the chip aisle, with old favorites like Ruffles and Doritos. Salty snack foods have maintained their popularity, even as tastes change in other areas.
In one of her final acts, Nooyi agreed to buy fizzy-drinks dispenser SodaStream International for $3.2 billion, giving a company synonymous with sugary sodas a way into the homes of more health-conscious consumers.
Figuring out how the SodaStream business fits with Pepsi will be a key challenge for Laguarta, according to Ken Shea, an analyst at Bloomberg Intelligence.
"He can't drop the ball on that one," he said.