Penny Stock Boom at Risk as India Bourse Curbs Price Volatility
(Bloomberg) -- New measures proposed by Asia's oldest bourse to curb "excessive price movements" in so-called penny stocks pose hurdles for the millions of newbie traders who have thronged to that segment of India's $3.1 trillion equity market.
BSE Ltd. will introduce price bands on the movement of certain stocks based on their performance over a period of six months, one year, two years and three years, the exchange said Wednesday. That's in addition to standard daily limits.
The changes come as small-and mid-cap shares have been at the forefront of the relentless surge in Indian equities since the March 2020 pandemic lows, with gains driven by ample liquidity and first-time investors chasing high returns.
The measures effective Aug. 23 have already prompted a swift shift, with the S&P BSE Small Cap Index of 688 stocks falling for a third straight session on Wednesday to head for its lowest close in over a month. Still, the gauge is up more than 80% over 12 months, about double the gains of the S&P BSE Sensex -- the benchmark for blue-chips.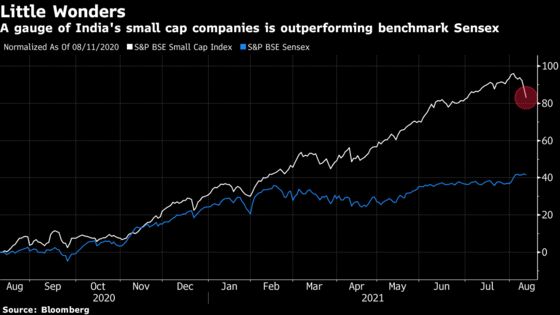 "Given the sharp upsurge in mid, small caps, notably retail-led penny stocks, BSE's add-on price bands could be a welcome step to curb speculative excesses," said Nitin Chanduka, a strategist with Bloomberg Intelligence. "However, exchanges need to be cognizant of maintaining a balance between price discovery and implementing safeguard measures as many times such steps accentuate downside, providing no exit for investors."
Retail investors now hold almost 70% of the free float of penny stocks, compared to 2% holdings of local mutual funds, according to Bloomberg Intelligence.
Historically, a jump in penny stocks has been a signal to show caution, as these usually have sketchier fundamentals and are typical momentum plays, Gaurav Patankar, head of emerging-market equity strategy at Bloomberg Intelligence, wrote in a note.
Markets followed previous periods of soaring penny-stock activity in 2007, 2010 and 2014 by trading rotationally, with average declines of 10%, he added. "We think that could be the case in this cycle."
READ MORE: India Robinhood Traders' Microcap Frenzy Fans Flames of Pullback