Pending Home Sales in U.S. Declined to Four-Year Low in October
(Bloomberg) -- Contract signings to purchase previously-owned U.S. homes unexpectedly fell by the most since January, reaching the lowest level since mid-2014 amid mounting evidence that the housing market is struggling.
The index of pending home sales dropped 2.6 percent, after a 0.7 percent gain the previous month, according to data Thursday from the National Association of Realtors in Washington. That missed the median estimate in Bloomberg's survey calling for a 0.5 percent rise. The gauge was down 4.6 percent from a year earlier on an unadjusted basis, following a 3.3 percent decrease.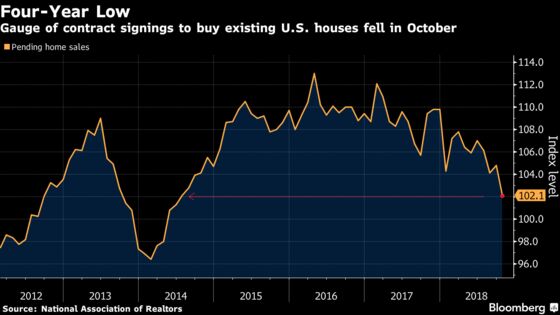 The results underscore the challenges as elevated prices and rising mortgage rates are keeping more Americans on the sidelines of the housing market. Economists consider pending-home sales a leading indicator because they track contract signings; purchases of existing homes are tabulated when a deal closes, typically a month or two later.
The recent rise in mortgage rates has "reduced the pool of eligible homebuyers," Lawrence Yun, NAR's chief economist, said in a statement. While the job market looks strong, making long-term prospects look solid, "we just have to get through this short-term period of uncertainty."
Pending sales fell in three of four regions, led by a an 8.9 percent slump in the West as the Midwest and South also declined. Signings in the Northeast rose 0.7 percent.
The index level of 102.1 was the lowest since July 2014.
While the report is in line with the view that housing isn't expected to collapse, the industry may have trouble gaining traction. Previously-released data showed new home sales fell in October to the weakest pace since March 2016, while purchases of previously owned houses rose for the first time in seven months.