Pence Says Europe Pushing U.S. Away by Backing Iran Nuclear Deal
(Bloomberg) -- Vice President Mike Pence just confirmed what many Europeans have feared since the current administration took office: The U.S. and its oldest allies across the Atlantic are becoming estranged.
In a speech in Warsaw on Thursday, Pence reprimanded the U.K., France and Germany for creating a financing plan that would allow European companies to continue trading with Iran in spite of renewed American sanctions on the Islamic republic.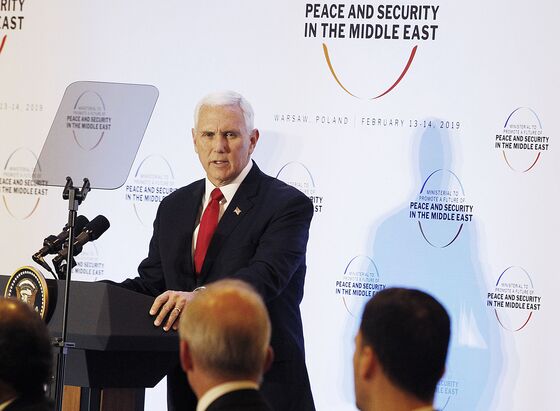 "They call this scheme a 'Special Purpose Vehicle'," Pence said, according to a copy of his prepared remarks. "We call it an effort to break American sanctions against Iran's murderous revolutionary regime.''
"We call it an ill-advised step that will only strengthen Iran, weaken the EU and create still more distance between Europe and America,'' Pence said.
The 2015 nuclear accord was backed by the previous American administration to constrain Iran's nuclear activities in exchange for sanctions relief. Since the U.S. left the Joint Comprehensive Plan of Action last May, the deal's remaining powers -- China, France, Germany, Russia and the U.K. -- have struggled to ensure the promised sanctions relief.
The U.K., France and Germany unveiled the special purpose vehicle, dubbed the Instrument in Support of Trade Exchanges, last month.
"For the sake of peace, security, stability, and human rights in the Middle East, the time has come for our European partners to stand with us, stand with the Iranian people, stand with our allies and friends in the region -- and we reject the Iran nuclear deal," Pence said.