Pemex Leads Sell-Off in Mexican Bonds After Incoming President Swings Left
(Bloomberg) -- Pemex bonds are leading the rout in Mexican assets on concern the oil company will be the next in the crosshairs of incoming President Andres Manuel Lopez Obrador, or AMLO, after he cancelled a $13 billion airport Monday.
The yield on Pemex's 10-year bonds rose 13 basis points to 7.051 percent, after soaring 27 basis points yesterday. The company's debt maturing in 2047 was little changed Tuesday, after the yield climbed 36 basis points on Monday to 7.997 percent.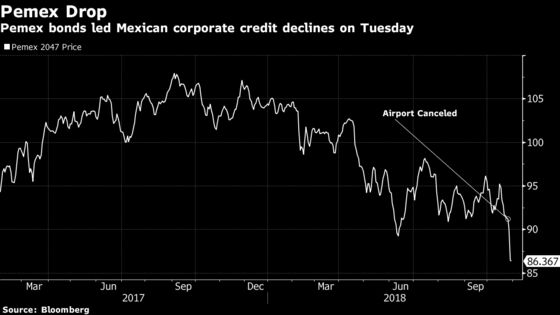 Investors are concerned that the airport decision raises risks for Pemex's oil auctions program, which allowed the company to open up to foreign investment. Moody's senior credit officer Nymia Almeida warned that the oil auctions may not be pursued with the same velocity.
"The best explanation is contagion from the airport news yesterday," said Luis Gonzali, a money manager at Franklin Templeton Investments in Mexico City. "Yesterday, for many people, the risk of a radical AMLO materialized."