Pemex CEO Sets Himself a Tall Order With 90% Refining Goal
(Bloomberg) -- Petroleos Mexicanos aims to reconfigure its six refineries to run at about 90% capacity in two years, Pemex Chief Executive Officer Octavio Romero said Wednesday in an interview.
That seems on its face to be a tough challenge, given that the refineries are running at around 35% now. To reach that goal, Pemex facilities would need to process a combined 1.46 million barrels a day, something it hasn't done since at least 1992, compared with 571,000 in March.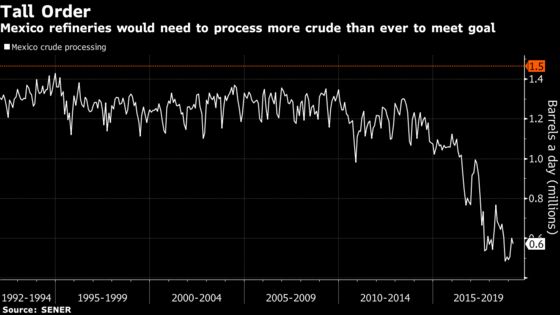 "Increasing the utilization at that level would involve not only a considerable injection of capital and stopping the plants to be able to rehabilitate them, but also obtaining an alternate supply of medium crude that can cover the fall in Isthmus production," said Ixchel Castro, energy analyst at Wood MacKenzie Ltd.
Reaching 90% would put Mexico's refineries on a par with the U.S., helping the country cut down on the gasoline and diesel it imports from the U.S. and other countries. Pemex also plans to use more of its own crude as it turns its declining production around.