Peloton Shares to Be Freed Early, Conjuring Tech Lock-Up Deja Vu
(Bloomberg) -- A pivotal moment next week for at-home fitness provider Peloton Interactive Inc. could conjure up memories of last year's releases of newly-issued stock by technology companies -- moves that rattled investors and led to heightened volatility for Lyft Inc. and Uber Technologies Inc.
Come Monday, some 90% of Peloton's shares outstanding will be freed up, opening the first window for insiders and early investors to sell since the company's September initial public offering. This particular lock-up -- similar to Lyft's -- expires short of the traditional 180-day lock-up period that most companies follow.
Meanwhile, Peloton shares at the recent close of around $27 are below its $29 IPO price. Analysts cited the early lock-up as a near-term risk to shares. MKM's Rohit Kulkarni, in a report published Friday, said that unlike Uber and Lyft, almost all locked-up shares as well as vested stock options "have significant positive returns," which could lead to downward pressure in the near-term.
Lock-ups "created volatility for other recent tech IPOs," in anticipation of pent up selling pressure, although the stocks tended to bounce back in the days following the expiration, BofA analyst Justin Post said in a telephone interview.
Recalling Lyft and Uber's volatility around their lock-up expirations, Raymond James analyst Justin Patterson said that it "coincided with negative regulatory headlines. And unique to Uber was a former executive selling fairly aggressively into the market." By contrast, Peloton's founders remain at the company.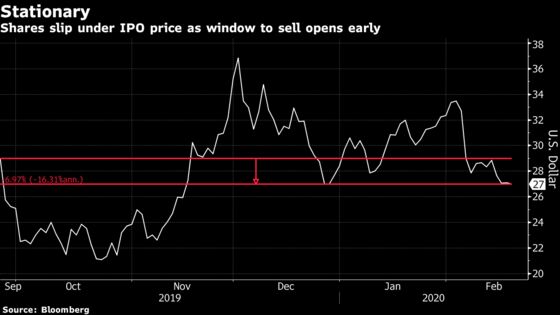 The date was moved up because Peloton's lock-up expiry would have fallen during a blackout period that would bar insiders from selling, according to a Feb. 5 filing submitted to the Securities and Exchange Commission when the company reported earnings. A highlight of the filing was the company's estimate of shares outstanding -- 317 million. That figure includes options that have or will be vested as of Feb. 24, as well as some 273 million convertible Class B shares eligible to be sold in the public market.
Read more: Peloton's Locked-Up Shares May Have Significant Returns: MKM
Analysts using the 280 million shares outstanding that were cited in Peloton's quarterly report have some math homework to do before Monday.
Based on JPMorgan's estimate of roughly 277 million shares that will unlock for insiders and early investors, about 87% of Peloton's estimated 317 million shares outstanding stands to be freed. That would include 144 million shares held by affiliates and 133 million shares held by non-affiliates.
Tiger Global Management and Peloton Chief Executive Officer John Foley are among the largest affiliates, with roughly 15% and 6.1% holdings respectively, according to JPMorgan. Technology Crossover Ventures (TCV) has 6%. Fidelity, which owns 5% of shares outstanding, and Comcast, with 3.3%, are not counted among affiliates, according to JPMorgan. Tiger Global and Fidelity declined to comment. TCV deferred to the company to answer questions while Peloton declined to comment.