Peloton's 2020 Rally Tops 470% in Wake of Lauded Precor Deal
(Bloomberg) -- Peloton Interactive Inc. shares soared on Tuesday, with the stock extending a move into record territory after it agreed to buy fitness-equipment company Precor, an acquisition that received rave reviews from Wall Street analysts.
A number of firms raised their price targets on the stock, seeing the deal as a way for Peloton to improve its manufacturing capacity and meet the elevated demand its exercise equipment has been seeing.
The stock gained as much as 14% and was on track for its seventh straight advance, its longest streak since February. The shares have gained as much as 40% over the seven-day rally, bringing its year-to-date advance to 475%.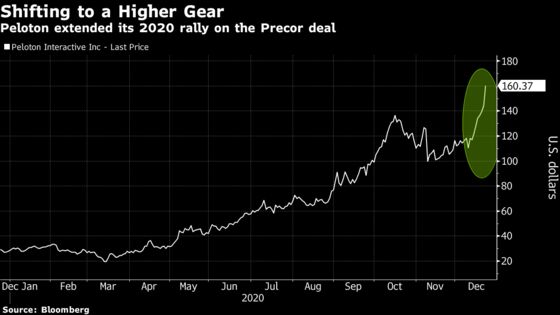 Peloton has been among the most high-profile winners of the Covid era, with consumers looking to at-home fitness options amid closures of gyms and other facilities. That demand has resulted in supply-chain delays and longer lead times, factors that the Precor deal is seen as addressing.
KeyBanc Capital Markets called the deal "highly synergistic and supportive of long-term growth," as the increase in manufacturing capacity "should provide increased supply chain flexibility," addressing a primary impediment to growth. Telsey Advisory Group wrote that the deal "should boost sales and improve the customer experience" by expanding Peloton's manufacturing capabilities.
At least four firms raised their price targets on the stock, bringing the average to $144, up from about $137 over the weekend. The current average is roughly even with the stock's most recent close.
Wall Street is broadly positive on Peloton's long-term prospects. According to data compiled by Bloomberg, 24 firms recommend buying the stock, compared with only one with the equivalent of a sell rating. Three firms have neutral views of the stock.