Paytm Drops to Three-Week Low; Anchor-Investor Lockup Ends
(Bloomberg) -- India's digital-payments giant Paytm plunged 7.8% after a post-listing lockup on sales of shares allotted to anchor investors expired.
Anchor investors in what was the nation's largest initial public offering can now sell the shares as Indian lockup rules prevent them from doing so for a month after allotment. One 97 Communications Ltd., Paytm's parent, had slumped in its debut on Nov. 18 after raising about $2.5 billion through the share sale. It is still down about 36% from its issue price.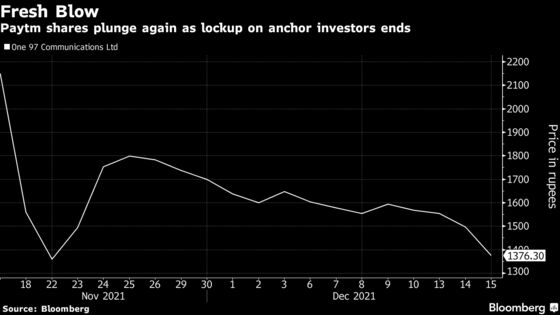 The company reported a loss of 4.74 billion rupees ($62 million) in the quarter ended September, up from 4.36 billion rupees in the same period a year ago.
"Concerns over a path to profitability for Paytm are likely to persist till investors see credible signs of business growth in the quarters ahead," said Aditya Kondawar, chief operating officer at JST Investments, a financial advisory firm in Mumbai. 
Paytm's early tumble ranked among the worst debuts by a major technology company since the dot-com bubble era of the late 1990s, even as it counted global giants like BlackRock Inc., Softbank, Berkshire Hathaway and the Canada Pension Plan Investment Board among investors.
Several of the biggest investors were said to have added to their stakes last month after the stock's losses touched as much as 41%.