Paytm Soars 17% in Second Session of Gains on 'Value Buying'
(Bloomberg) -- Shares of India's Paytm climbed for a second day on Wednesday, easing a selloff that wiped out about a third of the digital payments startup's value in its first two trading sessions.
The payments firm advanced 17.3% on Wednesday, but is still down more than 18% from its offer price. Paytm's parent company, One 97 Communications Ltd., raised $2.5 billion in India's biggest-ever IPO that had global institutions such as BlackRock Inc. and Canada Pension Plan Investment Board as cornerstone investors. Shares sank 27% last Thursday, marking one of the worst debuts by a major technology company globally.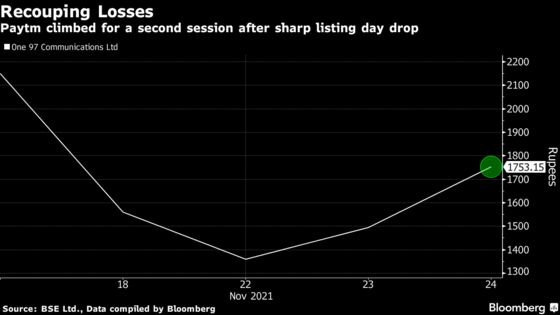 "This is value buying," said Gaurav Garg, head of research at Indore-based CapitalVia Global Research Ltd. "Investors who are confident about the long-term prospects of the company can look at accumulating the stock." Garg said the stock may stabilize between 1,600 rupees and 1,800 rupees in the short term. 
Paytm's poor start came after some critics had already questioned its valuation at the time of the initial public offering's pricing. That now means at least a dozen Indian firms working on IPOs are under extra investor scrutiny, and planned smaller ones could have a harder time pricing shares if there is a reduced appetite for new listings.
"Valuations are quite frothy in certain pockets," Meeta Shetty, a fund manager with Tata Asset Management Ltd. said in an interview with Bloomberg Television. However, some of the recently-listed companies in India have huge headroom for growth, she said. "Looking at one stock and building a case may not be the right thing."
What Bloomberg Intelligence is saying:
"Paytm is facing skepticism about its IPO, similar to the initial resistance that Facebook dealt with when it listed," BI strategists Gaurav Patankar and Nitin Chanduka write in a note. "The public listings of 'new economy' startups such as Paytm and Zomato's MSCI inclusion bolster India's evolving digital landscape and are part of the $375 billion opportunity that we see in the country."
Sentiment in the secondary market is turning around after the benchmark S&P BSE Sensex has lost more than 5% from its record touched in October. It fell 0.6% on Wednesday.