Pay Deal Ends French Border Guards' Brexit Battle
(Bloomberg) -- Go inside the global economy with Stephanie Flanders in her new podcast, Stephanomics. Subscribe via Pocket Cast or iTunes.
After two months of complex Brexit-related negotiations, the French government and customs officers struck a deal that aims to end disruption at ports and the Eurostar terminal in Paris.
Friday's agreement, signed by all unions, will gradually increase salaries in the coming years, and customs officers will get their first boost Nov. 1, the day after the U.K. is currently due to exit the European Union. The deal will eventually raise the annual wage bill by around 17 million euros ($19 million), according to officials at the budget ministry.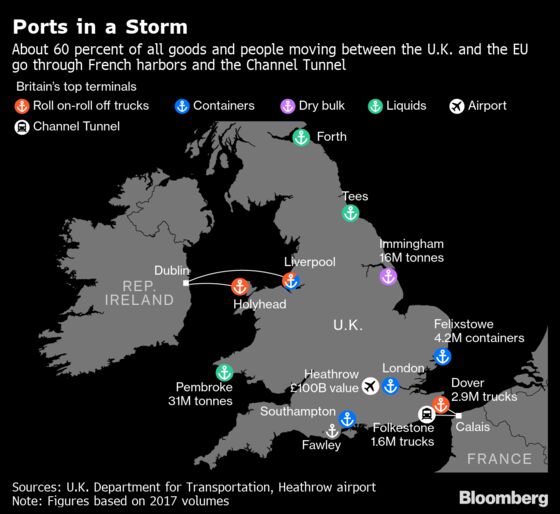 French customs officers demanding better pay and conditions as Brexit looms had caused cancellations and long delays at borders with the U.K. in March by working to rule. The government's first attempt to end the dispute failed when unions rejected a 14 million-euro package to boost salaries.
"This unanimous agreement will enable a return to normal operating conditions so that the customs office can implement Brexit and continue to succeed in all the projects with which it is tasked," the budget ministry said in a statement.
The negotiations were fraught with difficulty as union demands for pay rises were initially "stratospheric" and the grass-roots nature of the protest meant it wasn't always clear with whom the government should negotiate, an official at the budget ministry said.
Around 30 customs officers face disciplinary procedures because of their actions. The pay increase will eventually amount to a maximum of 65 euros net a month, while some unions had demanded 150 euros, the officials said.
The deal also foresees a reorganization of operations at borders that will be impacted by Brexit, a review of pensions and work hours. The government will review the deal depending on the outcome of Brexit, the officials said.