Pause or Press On? Wall Street and Economists Drift Apart on Fed
(Bloomberg) -- While Wall Street's traders are betting against the Federal Reserve's ability to raise interest rates at all in 2019 and are even starting to cast doubt on a December increase, economists are still debating whether the Fed will hike two, three or four times next year.
The market and economists are rapidly drifting further apart. That's in the wake of a massive repricing Thursday by debt futures, to less than one full quarter-point increase in how much Fed policy tightening they see next year. This rapid adjustment came amid a swoon in global shares as fears of escalating U.S.-China trade tensions were rekindled.
Yet this backdrop, and Chairman Jerome Powell's recent opening of the door to a time-out at some point, smacks against economists at firms including Goldman Sachs Group Inc. and JPMorgan Chase & Co. who still forecast a move this month followed by four more in 2019. Citigroup Inc. and Morgan Stanley agree on a December shift, but see just two increases next year. Bloomberg Economics predicts three.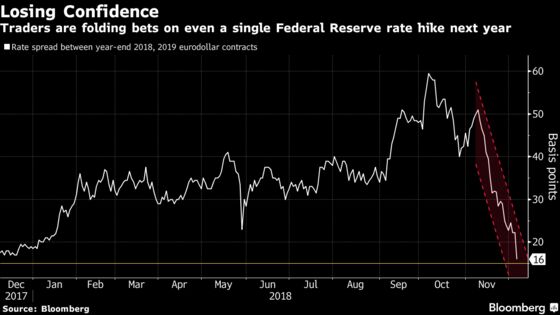 Risk-averse sentiment combined with the changed Fed outlook sent Treasury yields spiraling, in part as investors sought them as a haven. The benchmark 10-year note yield touched as low as 2.82 percent Thursday -- its least since August - and 2-year yields tumbled to about 2.76 percent.
Here's a rundown of what some economists are saying on the Fed policy rate, as well as what their firm's rate strategists predict for the benchmark Treasury yield:
Goldman Sachs Group Inc. (Four rate hikes in 2019)
"It is true that Fed commentary has shifted somewhat in a dovish direction. The emphasis appears to have switched from a need for restrictive policy to a stronger focus on data dependence. Additionally, the tone on inflation expectations may also have shifted somewhat in a dovish direction. However, we think that markets have overstated the extend of the shift."
--Chief Economist Jan Hatzius and colleagues, Nov. 30 report
10-year Treasury yield forecast: 3.4 percent end Q2; 3.5 percent Dec 2019
JPMorgan Chase & Co. (Four rate hikes in 2019)
"We see the Fed continuing in its current pace of quarterly policy adjustments. But we recognize that a 'data dependent' Fed will make decisions based on the interaction of economic outruns and its perception of risk.''
--Chief Economist Bruce Kasman and colleagues, Nov. 30 report
10-year Treasury yield forecast: 3.5 percent end Q2; 3.6 percent Dec 2019
Morgan Stanley (Two rate hikes in 2019)
By September the Fed "sees the economy slowing to below potential growth. The Committee then pauses, recognizing it has moved into the 'third phase' of policymaking, managing policy around neutral. In 2020, with growth back above potential and core PCE inflation rising further, the FOMC feels the need to take rates into restrictive territory, prompting four more hikes, which lift the terminal rate to 3.875% by year-end."
--Chief U.S. Economist Ellen Zentner and colleagues, Nov. 25 report
10-year Treasury yield forecast: 3.0 percent end Q2; 2.75 percent Dec 2019
Citigroup Inc. (Two rate hikes in 2019)
"We continue to expect relatively unaggressive Fed policy, with a hike in December followed by two further hikes in March and June 2019. Core PCE inflation falling below 2 percent year on year for October would further confirm the lack of inflationary pressure and our expectation for a terminal policy range of 2.75 percent to 3 percent."
--Chief U.S. Economist Andrew Hollenhorst, Nov. 27 report
10-year Treasury yield forecast: 2.85 percent end Q2; 2.85 percent Dec 2019
Bank of America Corp. (Four rate hikes in 2019)
"The Fed is on track to wash, rinse and repeat, hiking four times in 2019. Fed officials can high five each other as the economy is in excess of full employment while inflation is hovering close to target."
--Chief U.S. economist Michelle Meyer, Dec. 5 report
10-year Treasury yield forecast: 3.30 percent end Q2; 3.25 percent Dec 2019
Barclays Plc (Four rate hikes in 2019)
"The Fed has not changed its principal approach and remains quite optimistic about the economic outlook. Although recent communications suggest that there is some debate within the FOMC about whether potential growth has accelerated, such an outcome would seemingly imply a higher neutral rate and a higher terminal rate. In line with our forecast of continuing above-trend growth, we expect the labour market to remain buoyant."
--Ajay Rajadhyaksha, head of macro research, and colleagues, Dec. 6 report
10-year Treasury yield forecast: 3.0 percent end Q2; 3.0 percent Dec 2019
Societe Generale SA (Two rate hikes in 2019)
"The U.S. Fed is, in our view, still heading for one more hike this year, and another two in the first half of 2019. That would leave the fed funds rate at 2.75 percent to 3 percent, in line with the Fed's and our estimate of the neutral rate, at which point we expect a pause in the rate hike cycle. That pause will in our view turn out to be the end of the cycle as the U.S. economy begins to slow towards the end of 2019 and into 2020."
--Chief economist Klaus Baader and colleagues, Nov. 21 report
10-year Treasury yield forecast: 3.5 percent end Q2; 3.1 percent Dec 2019