Detour Battle With Paulson Intensifies Over Miner's Future
(Bloomberg) -- A battle between Detour Gold Corp. and Paulson & Co. is becoming increasingly acrimonious, with the hedge fund accusing the gold miner of failing to share information about a possible buyer and Detour alleging that Paulson is misinforming investors.
"The company does not have a sale process in place nor has it received any offers to purchase its shares," Detour said Wednesday in a statement. "Paulson, in a desperate attempt to resuscitate its flailing reputation in the mining industry, has once again misinformed the investment community."
The hedge fund run by billionaire John Paulson had earlier issued a news release saying it had received information from Detour that a major gold miner was interested in potentially buying it. Detour surged 9.7 percent, the most in almost a year, to a market value of C$2.35 billion ($1.78 billion).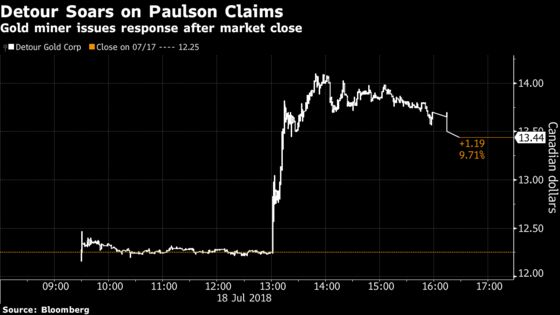 Detour had already filed a complaint with the Ontario Securities Commission before Paulson issued the release, Detour said. The company described the hedge fund's actions as "self-serving," "aggressive" and "bullying."
For its part, Paulson said it requested that Detour's board immediately share the information with all stockholders and the public, and announce a formal process to evaluate strategic opportunities.
"To date, the Detour Gold board has failed to do so, therefore Paulson is issuing this press release so that all company shareholders and the wider public have the same information as Paulson," the hedge fund said in its statement.
As a result of the "unsolicited written communication" from Detour's interim chief executive officer, Michael Kenyon, Paulson said it's moving ahead with efforts to replace most of Detour's board with independent nominees.
And in a subsequent press release, Paulson said it had been in contact with the OSC earlier on Wednesday and provided the regulator with the letters. The hedge fund said it will support any investigation by the OSC.
The fund's $9 billion in assets include a 5.4 percent stake in Detour.
Last month, Paulson sent a letter to Toronto-based Detour asking the company to put itself up for sale, citing stock losses and poor management. Subsequently it also said it would push to replace the board of directors.
Paulson has become increasingly vocal about its grievances with the gold sector and is looking to form a coalition of investors to tackle some of its biggest complaints.