Paulson Eyes Puerto Rico Residency Once Kids Head to College
(Bloomberg) -- Maybe it takes an empty nest to fill up a tax haven.
Billionaire hedge-fund manager John Paulson is considering becoming a resident of Puerto Rico in the next few years once his children head off to college.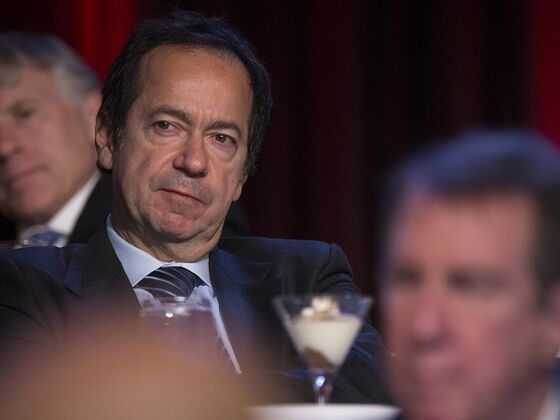 Paulson, who gained fame from his bets against the U.S. housing market about a decade ago, may move to the bankrupt island after his children, who are 13 and 16, finish their high-school education, he said.
"It's difficult to move with them," Paulson said about his children at a Beryl Elites conference in midtown Manhattan Monday evening. "But once, I think, our children go to college, I think it's likely that we'll establish residence in Puerto Rico."
Paulson owns several hotels and office space on the island. He's contemplated moving to Puerto Rico in recent years to take advantage of the commonwealth's tax advantages. New residents are exempt from the federal income tax and Puerto Rico taxes on passive income. The beautiful beaches, sunshine and great restaurants are also a motivating factor, Paulson said.
"It's the only place a U.S. citizen can go and literally avoid, legally, all their taxes," Paulson said.
Some investors see Puerto Rico as an opportunity to buy real estate and establish businesses at a cheaper cost as the island seeks to turnaround an economy that's shrunk in the past decade, in part because residents keep moving to the U.S. mainland for work. Officials expect federal disaster money will help boost its economy as the commonwealth also works to reduce most of its $74 billion of debt through bankruptcy. Attracting residents -- and keeping them from leaving -- is crucial to its turnaround.
"The more and more people who know about it and the more and more people that move there, eventually a critical mass will form that Puerto Rico has the potential to become a leading commercial center in the Caribbean," Paulson said.
Paulson's bets against the U.S. housing market turned him into a billionaire. But since then, he's been wrong footed on a number of trades from gold to the European sovereign debt crisis, prompting investors to pull billions from his namesake hedge fund. His Paulson & Co. manages about $8.7 billion -- most of it belonging to him -- down from $38 billion in 2011. He's recently been overhauling his New York-based firm to return to his roots of betting on mergers.