Paul Taubman's Wager on Going It Alone Is Starting to Pay Off
(Bloomberg) -- In the three years since Paul J. Taubman parted ways with Wall Street giants to strike out on his own, his eponymous firm has advised on several top deals and made him a fortune.
Taubman, a Morgan Stanley veteran who was Wall Street's highest-paid executive for 2015, has since reaped $127 million from stock awards as shares of PJT Partners Inc. outpaced rivals. The most recent tranche is set to vest Tuesday.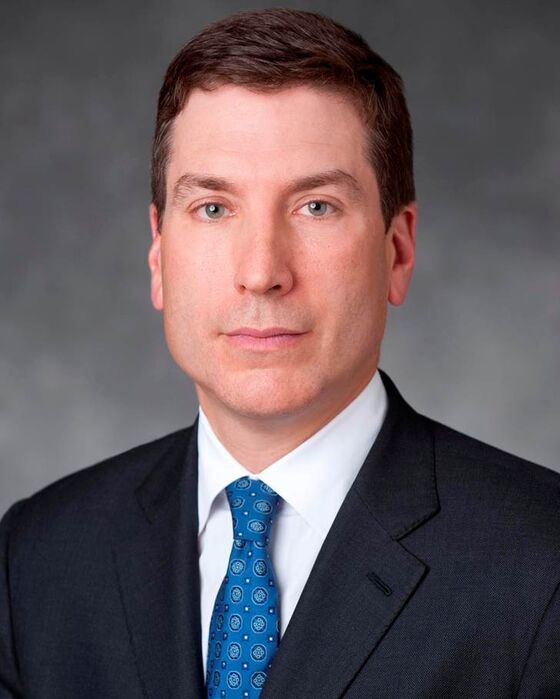 "It's never a bad thing to align your interest with shareholders," said Buckingham Research analyst Jim Mitchell, who has a neutral rating on PJT shares. "They've showed good progress so far but there's still a long way to go."
Banks have benefited from a buoyant market for mergers and acquisitions this year as global deal volume surpassed $3 trillion, the most in more than a decade, according to data compiled by Bloomberg. PJT is advising Sky Plc on its $39 billion sale to Comcast Corp. and working on restructurings that tend to provide steady revenue. Taubman, 57, has recruited dealmakers from larger rivals including JPMorgan Chase & Co. and Goldman Sachs Group Inc.
A spokesman for the New York-based investment bank declined to comment.
Shares of PJT climbed 67 percent since their September 2015 debut to $48.84 on Monday, beating the 53 percent advance of the S&P 500 Financials Index. The past few months have been more volatile, with the stock slumping 20 percent from its August high as global trade tensions and lofty stock market valuations pressured demand for dealmaking.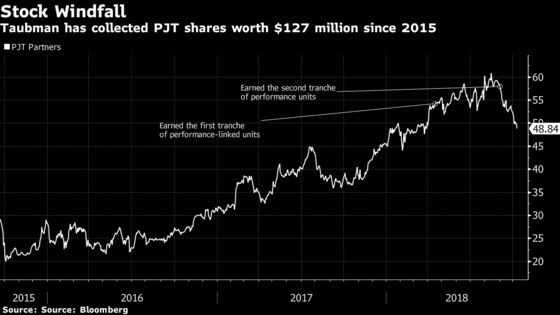 As part of PJT's spinoff from Blackstone Group LP three years ago, Taubman got the opportunity to earn 5.8 million shares through 2021 in exchange for his interest in the predecessor firm. About half are linked to his continued employment until Oct. 9, 2019. The rest are tied to share price targets as high as $79 -- or 38 percent above Monday's closing price.
On Tuesday, Taubman is scheduled to collect the second of the three tranches of time-based shares. Earlier this year, the firm surpassed two of the five price targets. That puts his haul so far at 2.6 million shares.
He can earn another 3.2 million shares if he stays on for at least another year and PJT's volume-weighted average share price exceeds $63, $71 and $79 at some point in the next three years.
Taubman also has spent $10.6 million of his own money on the investment bank's stock in the past three years, according to regulatory filings. His annual salary has remained fixed at $1 million since the spinoff.
Other dealmakers including Ken Moelis have collected windfalls after heading out on their own following the financial crisis. His stake in Moelis & Co. was worth more than $380 million at the 2014 initial public offering, and this year the former UBS Group AG investment banker became a billionaire.