Ailing Italian Bank Puts Crown Jewel Properties Up for Sale
(Bloomberg) -- Banca Monte dei Paschi di Siena SpA is preparing to sell as much as 600 million euros ($686 million) of real-estate assets including buildings near some of Italy's most famous monuments as part of a plan to boost capital, people with knowledge of the matter said.
The Italian bank is working with property adviser Duff & Phelps REAG to market a package of office buildings and other properties, the people said, asking not to be identified as the process is private. The offering, which includes Monte Paschi assets in the centers of Milan, Rome, Padua and Florence, will begin as soon as March, they said.
A spokesman for Monte Paschi declined to comment as did a spokeswoman for Duff & Phelps.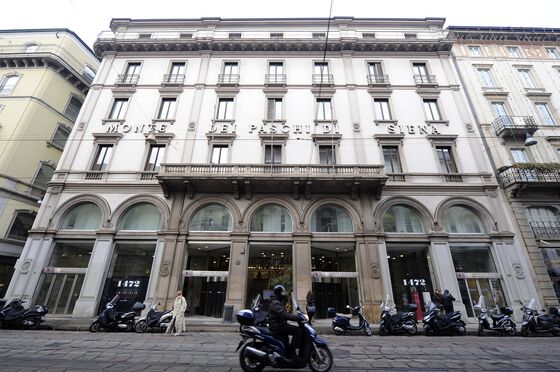 The property sales are part of a capital-boosting plan that Monte Paschi agreed to with Italian officials and the European Central Bank as a condition of its state rescue. Under the 2017 accord, the bank committed to selling 500 million euros of real estate by 2021, according to the people.
"Assuming the properties were acquired by the bank a long time ago, we presume Monte Paschi should have large gains attached to these assets even if the magnitude of the CET 1 benefit is hardly quantifiable at this stage," Fidentiis Equities analyst Fabrizio Bernardi, referring to the bank's key measure of capital strength.
The stock reversed an earlier loss after the news, gaining as much as 1.2 percent. The shares were little changed at 1.26 euros as of 2:20 p.m. The bank has lost 67 percent of its market value in the last 12 months.
Chief Executive Officer Marco Morelli is taking steps to turn around the rescued lender by cutting costs, selling non-performing loans and curbing risk. The ECB added new urgency to the bank's efforts last month when it highlighted weaknesses in the bank's capital and profitability and said the lender was "underperforming" the restructuring plan.
Properties to be offered include a historical building in Rome's shopping street Via del Corso, two offices in Florence located close to the Gothic church Santa Maria Maggiore and Via dei Sassetti, as well as the Milan headquarters close to the city's famous Duomo cathedral. The bank doesn't plan to sell any major asset in Siena, where it is based, the people said.
Undermined by souring loans and derivatives deals that backfired, Monte Paschi requested state aid in 2017. The Italian government stepped in to take a stake of about 68 percent, injecting 5.4 billion euros in aid as part of an 8.3 billion-euro recapitalization.