Paris Opens Up Electric Car-Sharing Market After Autolib Failure
(Bloomberg) -- Paris will open up its electric car-sharing market to multiple competitors after the city pulled the plug on Bollore SA's loss-making Autolib service.
"Competition will be lively and cut-throat," Renault SA's Chief Operating Officer Thierry Bollore -- who has no link with the Bollore company -- said Wednesday at a press conference.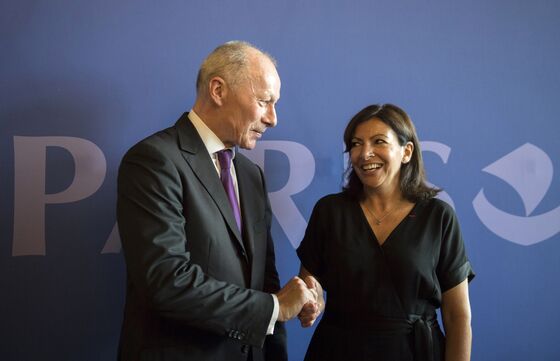 The French company along with rival PSA Group unveiled plans within days of Mayor Anne Hidalgo ending its exclusive agreement with Bollore that had asked taxpayers to pick up a forecast loss of 300 million euros ($349 million) over the next five years. The city is open to more carmakers entering the market to help to boost the service, Hidalgosaid at the same event.
"Paris invented electric car-sharing and we proved there was a need for it," she said. "Now our role is to build the future after a situation of crisis."
Renault was the first automaker to announce its plans, with service starting in September. BMW AG, Daimler AG as well as Volkswagen AG have also expressed interest, the municipality has said.
Getting the service back on track could help avert public discontent over the Autolib disruption, which has been compounded by the city's bike-sharing system, Velib, struggling with a new operator. The upheaval shows how new services designed to alleviate congestion and reduce pollution in municipalities are still adapting their offerings. Ride sharing provider Uber Technologies Inc. temporarily lost its license to operate in London, while Daimler and BMW have announced plans to merge their car-sharing operations to gain scale and help drive profits.
Paris will make available over 3,000 parking spots for Renault's electric models Zoe, Twizy, Master van and Kangoo van, and PSA's Peugeot iOn and Citroen C-Zero by the end of the month. The number of cars and operators will eventually be determined by the demand, the mayor said.
Autolib and Velib have helped reduce the number of individual cars in Paris. Half of households owned a car in 2001, versus a third today, Hidalgo said.