Papa John's Shares Spike on Reports of Renewed Buyout Activity
(Bloomberg) -- Shares of Papa John's International Inc. pared gains after founder John Schnatter denied reaching out to potential funders for backing to take the pizza chain private.
"John Schnatter has not reached out to or had any discussions with any private equity firm or any other entity about buying Papa John's," a spokesman for Schnatter said in an email. "Any such report about a potential transaction involving Mr. Schnatter is totally and completely false."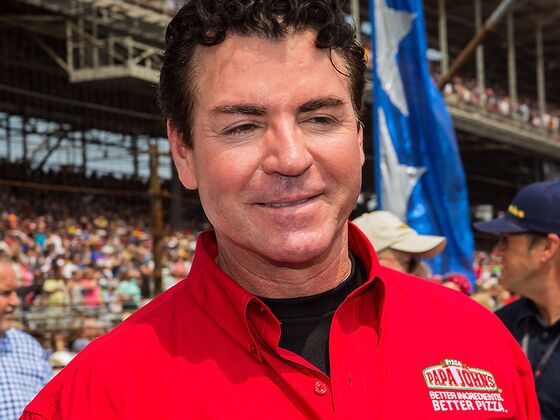 Shares had earlier jumped the most in more than two months after two separate reports about the company suggested deal activity could be heating up. CNBC reported that Schnatter, who owns about 30 percent of the pizza chain and is feuding with management, was looking for private-equity support for his own bid to regain control of the company, citing people familiar with the situation.
Separately, Reuters reported the company has contacted potential acquirers -- including other companies and private equity firms -- and asked them to submit offers, citing people familiar with the matter. The company declined to comment.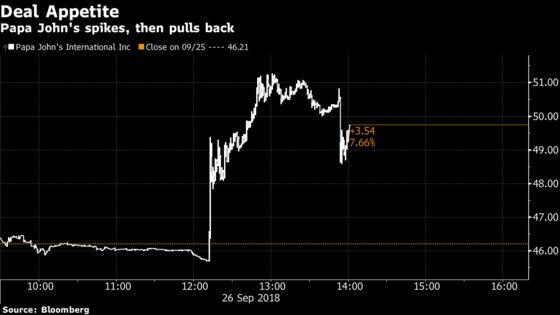 Papa John's shares rose as much as 11 percent, the biggest intraday move since July 12, before pulling back. Shares were up 7.5 percent to $49.66 as of 2:02 p.m. in New York. The stock had dropped 18 percent this year through Tuesday's close.
Hostility between the chain's founder and its management has boiled over in recent months as the two sides trade allegations and lawsuits fly. Schnatter is demanding new leadership at the company, which has moved to distance itself from the founder and remove him from promotional materials. In July, the board also adopted a poison pill designed to prevent Schnatter from adding to his stake or gaining majority control.