Pandora Soars on Report It Hired Adviser Amid Deal Interest
(Bloomberg) -- Pandora A/S soared in Copenhagen on a report that the Danish jewelry maker has hired an adviser to help it deal with interest from potential buyers.
Shares in the Copenhagen-based company jumped as much as 8.4 percent on Thursday, defying a global market rout in which the Danish benchmark index lost as much as 3.2 percent.
"We don't comment on takeover speculation," Johan Melchior, a spokesman at Pandora, said by phone. "We also don't want to comment on which advisers we may or may not have."
Inside Business reported that Pandora has hired Rothschild to advise it on how to handle potential buyers, without saying how it obtained the information. The decision follows interest from a number of buyout funds, Inside Business said on its website.
"If we were to receive a bid we would follow the rules and regulations on how listed companies must disclose such matters to the stock exchange," Melchior said.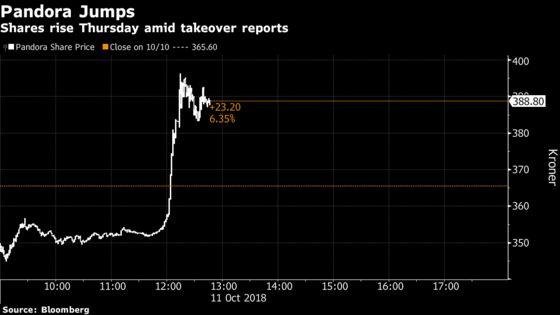 Rumors of a possible deal have been "whirling around for a couple of weeks," said Per Hansen, an investment economist at Nordnet.
In a note, analysts at Sydbank wrote that "there are rumors in the market that the company has hired an investment bank to fight a hostile takeover."