Pandora Hits Three-Year Low as a Key Adviser Voices His Concerns
(Bloomberg) -- Pandora A/S appears to be losing the confidence of key analysts and investors.
Shares in the world's biggest jewelry maker, which is based in Copenhagen, slumped more than 8 percent at one point on Thursday, dragging it down to its lowest market value since February 2015.
Investors started selling on advice from Carnegie, which slashed its share-price target by 43 percent and said clients should brace themselves for a Pandora "profit warning." Carnegie based its prediction on "poor" first-quarter numbers, as well as concerns the company is doing badly in Italy and clear signs of a contraction in store productivity. The brokerage's downgrade followed similar moves by analysts at JPMorgan and HSBC.
A Pandora spokesman declined to comment.
At Danske Bank A/S, which owns Pandora stock via its $250 billion wealth management unit, the verdict is that sentiment has shifted and that the period of goodwill the company enjoyed earlier this year is over.
"After the capital markets day in the beginning of the year, there was a period of relative calm around the stock, but that has now disappeared and the uncertainty seems to have returned," said Claus Paaske Larsen, equity adviser at Danske's wealth unit in Copenhagen. "The sentiment is now marked by uncertainty again."
Carnegie says Pandora shares are now only worth 400 kroner each, compared with the 700 krone-estimate it had before Thursday's downgrade. The brokerage, which back in January 2017 was telling clients to buy Pandora shares at a target price of 1,300 kroner, now has the most pessimistic view on the stock, of estimates tracked by Bloomberg.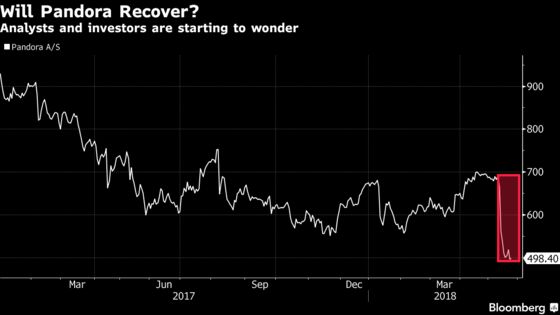 One Pandora share cost about 498 kroner on Friday morning and has lost more than 25 percent since the beginning of last week.
Investors started bolting last week after it emerged that Pandora's sales growth in China slowed dramatically in the first quarter, though the company said it remained committed to its full-year outlook.
"Pandora has been going through a tough time where the reaction to the company's slowing growth rates has been quite remarkable," Paaske Larsen at Danske said. "Pandora has in general been delivering earnings reports that have met expectations, but the market has been concerned about low visibility which has created uncertainty."
Doubts surrounding Pandora -- amplified by perceived gaps in management's guidance and market expectations -- have encouraged hedge funds to make the company one of the Nordic region's most shorted stocks.
According to regulatory filings, funds betting against Pandora include Coatue Management, AQR Capital Management, Lone Pine Capital, Indus Capital Partners, Melvin Capital Management and Scopia Capital Management. In total, short interest in Pandora represents well over a tenth of its market value.
But about half the analysts covering the stock still recommend buying Pandora, according to data compiled by Bloomberg.
Oliver Sherman, an analyst at Northern Trust Capital Markets, suggests investors might have over-reacted to Pandora's first-quarter numbers.
"China is only 7 percent of their business, and we see the news as more of a speed-bump than a 'stop' sign," he said in a client note on Wednesday. He also notes that management "seem perplexed by the share price reaction." Sherman said he shares the company's view that new products will support demand and expects evidence of this "to filter through as the months and quarters pass by."