Pandora's Wild Rebound Is Just the Start, Finance Chief Hints
(Bloomberg) -- Something interesting just happened to one of Europe's most beleaguered stocks.
Pandora A/S of Denmark, the world's biggest jewelry maker, appears to be recasting itself in investors' minds as a stock that won't necessarily deliver high growth rates, but that can instead be relied on to provide very decent returns. Viewing the company through that lens seems suddenly to be making all the difference.
Shares in Pandora ended Tuesday 18 percent higher, even after the company acknowledged its business will shrink in 2019. Instead, management promised to return more than 10 percent of the company's market value to shareholders.
Anders Boyer, chief financial officer, says once investors start to get a better sense of what Pandora is doing, they'll realize how much it's undervalued relative to its competitors.
Read Bloomberg Intelligence: Pandora's Goals Are More Realistic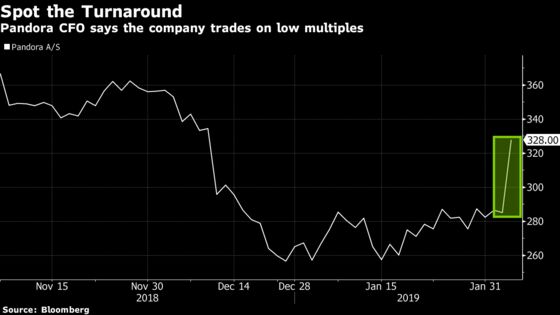 "It's a turn-around opportunity," Boyer, who's also acting as chief executive until Pandora finds a permanent CEO, said in a phone interview. "If you believe in Pandora's future, there's considerable upside in the multiples that Pandora shares are trading at."
Read More: Pandora Stores' Model Finds Reality Reset a Welcome Action Plan
"It's not a secret that if we compare Pandora with other companies in our industry, then the multiples that Pandora trade on look low,'' he said.
On Wednesday, several brokerages raised their price targets on Pandora, including Jyske Bank, ABG Sundal Collier and Berenberg.
Pandora's shares took what can only be described as a severe beating last year. The company's market value slumped more than 60 percent amid a speculative attack by hedge funds that ultimately prompted long-term investors to lose their nerve. The selloff coincided with a slowdown in sales that disappointed shareholders accustomed to double-digit revenue growth.
But Pandora is now in a different phase, Boyer said, and investors who understand that may stand to profit.
There's no question Pandora is cheap compared with its peers. Even after Tuesday's share-price jump, Pandora trades at about seven times its earnings. The average price-to-earnings ratio for companies in Europe's Stoxx Retail Index is closer to 26.
That reflects investors losing faith in a company that was long considered a pure growth stock. But after five years through 2017 in which revenue more than doubled, Pandora will this year see a contraction in sales. Boyer says 2020 will also be a "transition" year.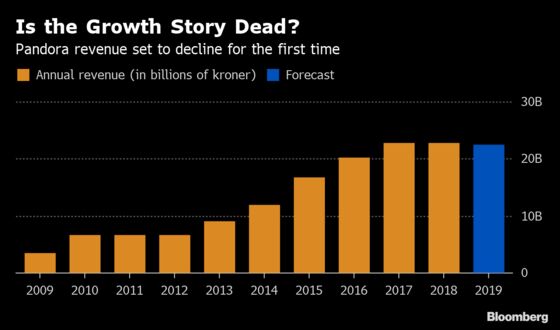 The question now is whether investors can learn to start treating Pandora as a so-called yield stock, where the focus is on profit and returns rather than top-line growth.
Based on its market value before Tuesday, Pandora returned 20 percent in 2018 and is on track to return 13 percent this year through dividends and share buybacks. That's one of the best ratios in the world, Boyer said. "It's a very high level.''
Pandora unveiled a "reset" strategy on Tuesday aimed at reviving its brand, which "has high awareness, but lacks a clear positioning," the company said. Measures include a "significant" reduction in the number of promotions and rebates it offers on its jewelry, and a plan to buy back "slow-moving" products from inventories at sellers.
It's not the first time Pandora is trying to hit the re-set button and more recent efforts haven't gone that well. Boyer says this time is different.
"We have every reason to believe that," he said. "We've spent a lot of resources to find the core of the issues and have had interviews with 28,000 consumers to uncover the reason for the developments in the last couple of years.''