Palm Oil Climbs as Tighter Supply Outweighs Indian Demand Fears
(Bloomberg) -- Palm oil futures advanced toward the highest level since 2017 as prospects for slowing production and increased biodiesel demand outweighed concern over lower demand from India, the biggest importer.
Malaysian production fell 14% in November from the previous month, more than expected, while Indonesia is introducing its B30 biodiesel program in January, increasing it to B40 toward the end of the year. The sharp gains in prices have blunted demand from India, with imports probably dropping to a five-month low in November, according to a Bloomberg survey.
Sales have slowed due to a sharp increase in prices, and that will keep demand in check, especially since sunflower and soybean oils are now more competitive, according to Rajesh Modi, a trader at Sprint Exim Pte in Singapore.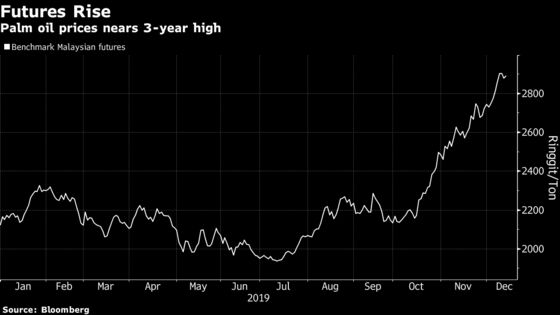 However, some buyers still aren't covered, and anticipation that production will continue its seasonal downtrend, depleting stockpiles, is propping up the market, he said. Expectations of robust consumption in Indonesia due to its biodiesel mandate are also supportive, Modi said.
The world's most used edible oil rose as much as 1%, before closing up 0.5%. Prices are up about 50% since the middle of July on expectations that output will weaken and biodiesel demand will increase from Indonesia and Malaysia.
Drivers
Eye-Watering Palm Oil Price Sees India Turn to Sunflower Oil
Palm Oil Prices Likely to Stay High Before 2Q Pullback: OCBC
CIMB Sees Malaysian Palm Reserves Hitting 2-Year Low in Dec.
Palm Oil's Rally Unlikely to Upset Indonesia's Biofuel Ambitions
RSPO Gets Malaysia's Nod to Publish Oil Palm Concession Maps
Indonesia's Nov. Palm Oil Exports Drop to 2.35M Tons: Intertek
'Unacceptable' EU Biofuel Tariffs Rile Indonesian Government
Malaysia's Dec. 1-10 Palm Oil Exports 367,410 Tons: AmSpec
Prices
Palm oil for Feb. closes +0.5% at 2,891 ringgit/ton
Soybean oil for March in Chicago +0.4% to 31.84c/lb
Palm for April on Asia Pacific Exchange -0.1% to $689.50/ton
Soybean oil's premium to palm ~$7/ton,

vs

avg premium of ~$112 in past year: data compiled by Bloomberg
Palm's premium over gasoil ~$107/ton

vs

avg discount of ~$56 in past year:

Bloomberg data

Refined palm oil for May on Dalian Commodity Exchange closes +0.9% at 5,894 yuan/ton; soybean oil +1% at 6,386 yuan/ton