Palm Oil's Best Start Since 2016 Still Has Legs, Top Grower Says
(Bloomberg) -- Palm oil prices may extend a rally through the second quarter as a recovery in demand for the commodity gathers momentum amid a seasonal drop in production, according to a top producer.
Demand for the world's most widely-used cooking oil may pick up ahead of the Islamic fasting month of Ramadan and Eid al-Fitr festival in May-June, said Santosa, president director of PT Astra Agro Lestari, Indonesia's biggest-listed palm oil producer by market value. He didn't provide a price estimate.
Palm oil is used in everything from shampoo to noodles and biofuels. Futures in Kuala Lumpur, the global benchmark, have rallied 6 percent this year, the best start to the year since 2016, as the increasing use of the vegetable oil as a biofuel drives demand. That's providing relief to a market that's suffered two bad years due to a supply glut in top-producing nations and lackluster exports to key buyers.
Indonesia Ramping Up Biodiesel Use Seen Alleviating Global Glut
Indonesia, the world's largest palm oil producer, widened its 20 percent biodiesel blending mandate in September to mining vehicles, power generators and railways, a move that may boost usage by more than 50 percent to 6.2 million kiloliters this year. Malaysia, the second-biggest producer, is planning to expand its biofuel mandate in the transport sector to 20 percent by 2020 from 10 percent currently.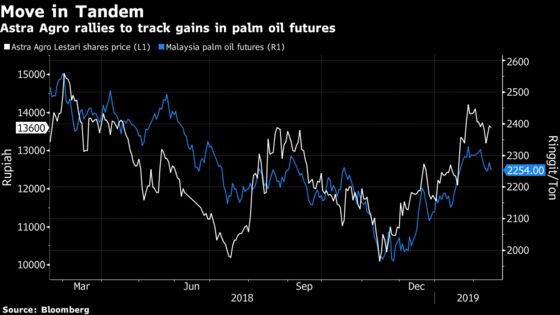 "B20 for transportation is working very well in Indonesia and the next important step is how to increase usage in the power sector," Santosa, who like many Indonesians use only one name, said to reporters in Bandung late on Friday. "Indonesia is promoting electric vehicles and it needs a lot of electricity, that's a huge demand opportunity."
Benchmark futures in Malaysia may climb to 2,400 ringgit ($587) a ton by the end of March if the Malaysian currency remains at current levels, veteran industry analyst Dorab Mistry said last week. Stockpiles in Malaysia and Indonesia may decline to about 6 million tons by April-May, he estimates. Futures closed at 2,254 ringgit a ton on Friday, a 16 percent gain from a three-year low hit in November.
Santosa also sees overseas demand for palm oil recovering this year. A pick-up in shipments to Pakistan and Bangladesh may help compensate for a potential decline in sales to India, which levies higher import duties on Indonesian supplies than Malaysia's, he said.
"I see Pakistan and Bangladesh will increase imports to be re-exported to India," Santosa said. "In total, our exports to South Asia will remain strong."
Indonesia's palm exports to India, the biggest buyer, dropped 12 percent last year from 2017, while shipments to Pakistan rose 14 percent and sales to Bangladesh climbed 16 percent, according to data from the Indonesian Palm Oil Association.
Astra Agro, a unit of the country's biggest auto retailer PT Astra International, sees its 2019 crude palm oil production little changed from last year's 1.9 million tons. Shares of Astra Agro have rallied 15 percent this year, outpacing the 1.8 percent gain in the Jakarta Stock Exchange Agricultural Index.