Trucking Liquefied Natural Gas Across 1,000 Kilometers Is A Hot New Business
(Bloomberg) -- The slow roll-out of Pakistan's 1,100 kilometer gas pipeline system has forced the nation to find new ways to transport the fuel to meet its rapid energy demand growth.
Singapore-based LNG Easy will invest $200 million this year to develop a first-of-its kind system in Pakistan to use trucks and rail to move liquefied natural gas discharged from ships to off-grid industrial users. LNG Easy will import 350,000 tons of LNG per year and plans to boost supplies to 1.2 million tons in two years, said Yasir Hamid, chief executive officer of the company's Pakistan unit.
"We see a huge market" in Pakistan for truck and rail LNG transport services, he said in an interview in Islamabad. "The downstream businesses is worth billions."
While Pakistan's dependence on overseas shipments of the fuel have ballooned since imports began in 2015, insufficient infrastructure has made it difficult to deliver the fuel to more remote parts of the country. The government and Russia are planning a domestic pipeline that connects Pakistan's southern LNG terminals to the energy-hungry north, but the project has been delayed several years and won't begin construction until later this year.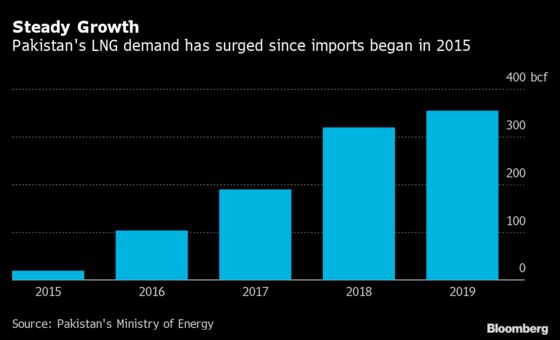 Door-to-door deliveries of LNG via trucks has increasingly allowed importers to leapfrog infrastructure bottlenecks and has helped boost demand for the fuel globally. The network could help places like the land-locked Punjab prefecture, where major industries such as fertilizer, textile, cement, face gas shortages.
LNG Easy, which operates in Myanmar, Singapore and Malaysia, will begin transporting LNG from Pakistan's ports from August. PetroChina Co. will be the main LNG supplier, although the company has also signed purchase agreements with Trafigura and Malaysia's Petroliam Nasional Berhad and is in talks with QatarGas to buy LNG fixed to the price of crude oil, said Hamid.
The company sees additional growth opportunities across South and Southeast Asia, in countries including Bangladesh, Vietnam and the Philippines, according to its website.
(A previous version of this story corrected company name in second paragraph.)