P&G Strikes Back at Doubters With Surprisingly Strong Sales
(Bloomberg) -- Procter & Gamble Co. has been dinged over the years for being too big, too slow and too cautious as it tried to break out of tepid growth.
Today, it issued a rejoinder: the largest jump in five years of a key sales measure. Investors cheered the first-quarter results, which the company says is proof its turnaround is working.
"It is broad based, both in geography and brand," Chief Executive Officer David Taylor said in a phone interview Friday. "That's indicative of a strategy and an organization that is making progress."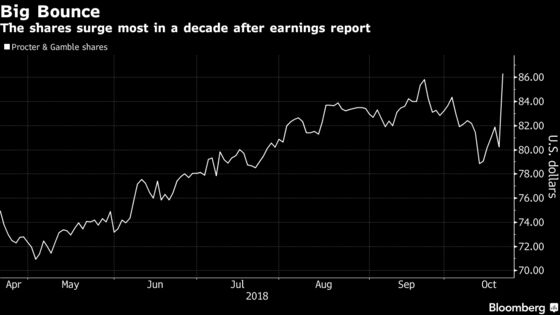 The surprise growth, including in its home market, sent the shares up as much as 9 percent on Friday, the most since 2008. Organic sales, which exclude items like acquisitions and currency effects, rose 4 percent, P&G said, more than double the gain projected by analysts.
Taylor took over three years ago, tasked with getting the world's biggest consumer-products company back to its glory days, when newly affluent customers overseas and the launch of category-busting products like Crest tooth-bleaching kits ensured reliable growth and dominance. As CEO, he's worked to streamline costs and the company's sclerotic structure.
The pace of that change frustrated some investors, notably activist billionaire Nelson Peltz, who waged an ultimately successful campaign for a board seat last year. Peltz pushed for more restructuring and efforts to court younger shoppers with newer brands.
In an environment when growth is hard to come by for big consumer-products companies, P&G's performance was unexpectedly strong. P&G said the U.S. drove much of the gain. The Cincinnati-based maker of Bounty and Pampers called out Olay -- a long-struggling brand -- and the new SK-II luxury skin cream, popular in Asia, as key drivers.
It was a "very solid quarter on which we need to build," Chief Financial Officer Jon Moeller said on a call with reporters. The company said it gained market share in the first quarter which ended Sept. 30, and that eight out of 10 global categories either increased or maintained market share.
The shares rose as high as $87.45 in New York trading. They had lost 13 percent this year through Thursday's close, compared with the 3.6 percent gain in the S&P 500 Index.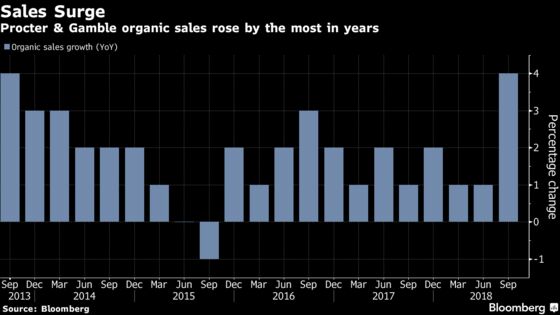 P&G, like many traditional consumer-products companies, has been hurt by heightened competition, including from upstart businesses. Higher commodity costs and unfavorable foreign-exchange trends are still taking a toll on the company's profitability. Gross margin fell to 49.2 percent from 50.3 percent a year earlier.
And one of its leading retailers, Amazon.com Inc., is becoming more of a competitor by rolling out its own versions of some of P&G's key products, including diapers.
Taylor said he's not taking that encroachment lightly, but earlier predictions of doom for big brands haven't panned out. Amazon's entry "causes me to double down about what makes a difference," he said. "We don't need 100 line extensions, we need meaningful innovation." Brands still matter, he said.
He pointed to the Pampers Pure Protection line of greener diapers introduced this year. The company tested the product under several names, and the version with the Pampers name did significantly better, he said, because customers trusted that it would be effective.
Despite the gains last quarter, the company maintained its full-year organic sales and profit forecasts. It said price increases that are going into effect may have an impact on volume and the company is more comfortable maintaining its outlook for now.
"Overall a positive quarter, but we don't want to get too carried away yet," said Eric Schoenstein, portfolio manager of the $6 billion Jensen Quality Growth Fund, which has about 3 percent of its holdings in P&G. The company's approach of careful price increases makes sense for now, since aggressive measures "typically don't work out well," he said in an email.
P&G also posted profit in the period that topped estimates. Excluding some items, earnings amounted to $1.12 a share, compared with projections for $1.08.
P&G's results are a "positive read-through for beleaguered" household and personal-care companies, said Kevin Grundy, an analyst at Jefferies LLC.