Oxley Sells Singapore Office Tower in a $753 Million Deal
(Bloomberg) -- Singapore's office market is running hot -- so much so that debt-laden Oxley Holdings Ltd. just sold a building for S$365 million ($268 million) more than it paid less than 18 months ago.
Oxley agreed to sell Chevron House, a 32-story tower in the central business district, to Golden Compass (BVI) Ltd. for S$1.025 billion in cash and assumed debt, according to a statement late Monday. Oxley bought the property, which comprises 27 levels of office space and a five-story retail podium, for S$660 million in December 2017. Golden Compass is controlled by AEW, a U.S.-based real estate fund manager.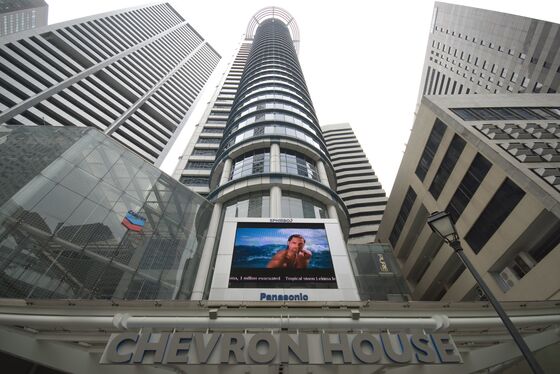 The deal is the latest sign of strength in the city-state's commercial property market. Office rents climbed to a 10-year high in the first quarter amid constrained new supply and solid leasing demand, according to Jones Lang LaSalle Inc. Rents should rise 10 percent in 2019, following a jump of 12.4 percent last year, according to Bloomberg Intelligence.
Landlords remain fairly optimistic on the outlook for rents and this will be supported by tapering new office supply in the medium term, said Desmond Sim, head of research for Singapore at CBRE.
Oxley has been selling assets to reduce leverage. The firm had total debt of S$3.9 billion and cash and cash equivalents of S$248.5 million as of Dec. 31, data compiled by Bloomberg show.
The developer's shares closed 8.3 percent higher, the biggest one-day jump in almost four years and extending their gain since January to 12 percent. Still, that's recouped only some of last year's 47 percent plunge, as investors grew concerned the company had taken on too much debt. The company's 6.375 percent dollar bonds rose by a record 1.8 cents to 93.1 cents on the dollar, set for their biggest gain since they were issued in 2017.
Founder and Chief Executive Officer Ching Chiat Kwong said in January he has turned cautious on buying land after the government's latest round of property curbs, and has set a S$5 billion sales target for this year.