Orsted Joins Poland's PGE in Offshore Wind Park Project
(Bloomberg) -- Poland's biggest utility PGE SA teamed up with Denmark's Orsted A/S to build a pair of wind farms in the Baltic Sea as the coal-reliant central European country moves ahead with a $35 billion plan to clean up its power generation.
Orsted, the world's biggest offshore wind-park developer, agreed to buy a 50% stake in PGE's 2.5-gigawatt project for 657 million zloty ($178 million), according to a statement published by the Polish company on Wednesday. Wind farms are poised to become Poland's biggest energy project, with the government expecting to spend around 130 billion zloty by 2040 to build more than 10 gigawatts of power on the Baltic Sea.
The push comes in sync with an unprecedented environmental overhaul in the European Union, which is targeting stricter emission-reduction targets in the coming decade and climate neutrality by 2050. To spur investment in clean technologies, the EU is making its so-called Green Deal a key pillar of its historic $2.2 trillion budget and stimulus package.
"Offshore wind energy is a big chance for the Polish economy and Polish businesses," PGE's Chief Executive Officer Wojciech Dabrowski said.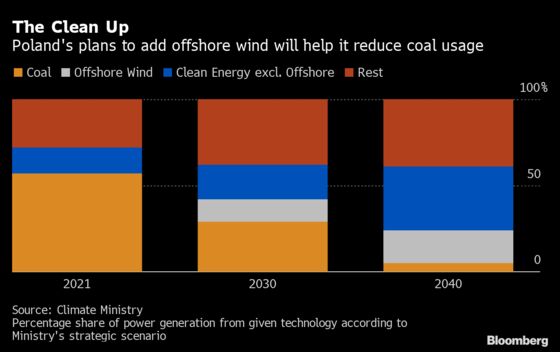 PGE and Orsted had been in exclusive talks about the wind energy project since 2019. The Polish utility, which wants to build two farms with capacities of 1 gigawatt and 1.5 gigawatts, needs its partner's know-how and capital to have its first turbines at sea producing electricity by 2026.
Orsted sees Poland as a critical part of a surge of wind farms to be built in the Baltic Sea in the coming decades. Strong wind speeds, relatively shallow waters and an increasingly supportive regulatory environment help boost the country's appeal. The deal with PGE may be just the first step in Orsted's expansion in the country.
"Poland is a very strategic market so we are looking to get more," said Rasmus Errboe Orsted's head of the continental Europe region.
The Danish company has installed almost a quarter of global offshore capacity and has moved into the U.S. and Taiwan. The global offshore market has opened up as costs to produce the renewable energy technology have plummeted and pressure to cut carbon emissions on governments has mounted.
In Poland, Orsted will join Equinor AS as well as Canada's Brookfield Renewable Partners LP and Northland Power Inc. in the push for harnessing offshore wind energy.
PGE, which apart from being the operator of Europe's largest lignite-fired power plant, is also the biggest owner of onshore wind parks in Poland. Record carbon permit prices and incentives for offshore wind energy planned by the the EU make the case for the company's shift to clean power even more urgent.
The Polish utility is optimistic about a Germany-like plan being considered by the government to carve out coal assets from power utilities to help them get cheaper funding.
In October, PGE said that it would be optimal for the spin-off to happen by the end of this year.