U.S. Capital-Equipment Orders Rise for Third Straight Month
(Bloomberg) -- Orders placed with U.S. factories for business equipment increased in June for a third straight month, a sign of investment momentum heading into the second half despite corporate concerns over tariffs, Commerce Department figures showed Thursday.
Highlights of Durable Goods (June)
Non-military capital goods orders excluding aircraft rose 0.6% m/m (est. 0.5% gain) after advancing an upwardly revised 0.7% the prior month; figure is proxy for business investment
Shipments of those goods, used to calculate gross domestic product, rose 1% (est. 0.4% increase) after a 0.2% increase
Bookings for all durable goods, or items meant to last at least three years, rose 1% (est. 3% advance) following 0.3% decrease (prev. 0.4% drop)
Key Takeaways
The miss in durable-goods orders may reflect quirks in data on bookings for aircraft and parts, typically a volatile category, which for civilian equipment rose 4.3 percent after an 11.6 percent drop in May, according to the report. Defense aircraft and parts orders advanced 20.2 percent following a 36.1 percent gain.
Boeing Co. previously said that the planemaker received 233 orders in June, up from 43 in May. Ian Shepherdson of Pantheon Macroeconomics said that a significant portion of the orders were from Boeing's financing arm, which would be excluded from the Commerce Department numbers. In addition, figures for the categories showed much bigger increases in June before seasonal adjustments.
The gain in business-equipment orders included increases in computers and electronic products, along with electrical equipment, appliances and components. Machinery and fabricated-metal products also showed smaller pickups, while orders for primary metals declined for a second month.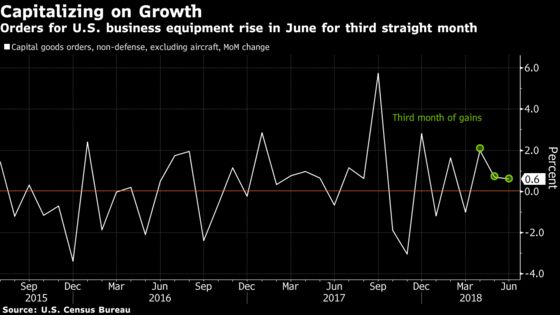 The latest data signal business investment remains firm even as President Donald Trump widens a global trade war beyond steel and aluminum and into a growing range of products from China, as well as potential levies on autos.
Business spending, which is getting a boost from lower corporate taxes, is one of the factors supporting a projected pickup in second-quarter economic growth. The GDP report is due Friday from the Commerce Department.
At the same time, the uncertainty over trade policy may spur some companies to slow investment, resulting in a hit to economic growth in the second half or later. Companies including General Motors are citing higher prices for steel and aluminum - - the metals subject to import levies -- as impacting their business.
After the report on durable-goods orders, along with data showing a wider merchandise-trade deficit in June and weaker-than-expected inventories, several estimates of second-quarter GDP growth declined. JPMorgan Chase & Co. cut its projection to 3.9 percent from 4.4 percent, while the Federal Reserve Bank of Atlanta's GDPNow tracker fell to 3.8 percent from 4.4 percent. The median estimate in Bloomberg's survey remained at 4.2 percent.
What Our Economists Say
Despite mounting orders, durable goods shipments -- a better barometer of production -- started off the quarter at a sluggish pace. They have since accelerated appreciably, which should support manufacturing activity and employment through the summer months. Rising levels of unfilled orders should help alleviate producers' concerns about trade-war escalation, thereby helping to mitigate the hit to confidence. Trade anxieties are high, but robust, pent-up demand helps to support confidence.

-- Carl Riccadonna and Tim Mahedy, Bloomberg Economics

Read more for the full reaction note on durable goods.
Excluding transportation equipment, durable-goods orders rose 0.4 percent (median estimate 0.5 percent) after rising an upwardly revised 0.3 percent; fifth straight gain
Orders for motor vehicles and parts rose 4.4 percent, most since March 2015, reversing most of a 4.5 percent drop in the prior month
Orders for fabricated-metal products rose 0.1 percent, while primary metals fell 0.4 percent, most since January; orders for computers and electronic products increased 0.6 percent
Defense capital-goods orders fell 11.6 percent, the most since March
Durable-goods inventories fell 0.1 percent, weakest since December 2016