Tycoon Allies Join Orban to Build Hungary's Balkan Influence
(Bloomberg) -- Long at the mercy of geopolitical forces, Hungary under Viktor Orban is looking to carve out its own sphere of influence.
His power at home is secure after three consecutive landslide election wins and a growing group of like-minded anti-immigrant leaders are at his side in the European Union. So far unfazed by street protests in Budapest, Orban has been championing his brand of illiberal politics across the Balkans. Close behind is a cohort of companies led by allies with designs on international expansion, often in a symbiotic relationship with politics.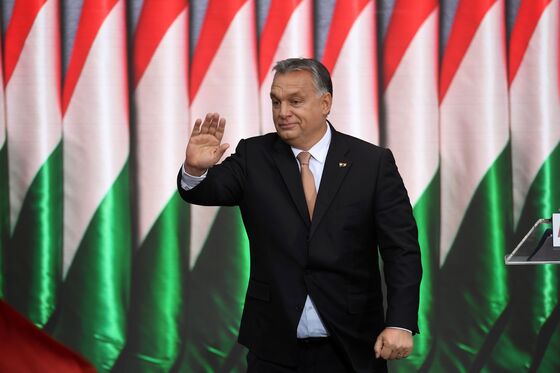 "He is expanding his influence also through the economic sphere," said Sonja Stojanovic Gajic, head of the Belgrade Center for Security Policy research institute. "You can see a recipe for capturing the state and for authoritarian rule."
The one-two punch of political alliances and business deals, from media to construction and banking, is giving Orban an outsize role in Europe's most volatile region, where Russian, European and U.S. interests collide and China and Turkey have also been seeking influence. His involvement was exposed last month when the fugitive former leader of Republic of Macedonia sought and received asylum in Hungary.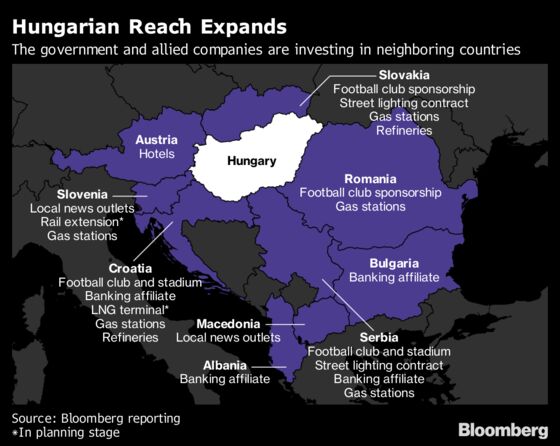 Macedonia, the former Yugoslav republic that's one of the battleground states for global powers, is among the countries where Hungarian influence is the most direct. Orban campaigned with the now-convicted ex-prime minister, Nikola Gruevski, and media outlets tied to his close adviser Arpad Habony pushed policies often similar to the Hungarian ruling party's. They ultimately failed and Gruevski was defeated by a rival who's accelerated the country's integration to the EU and NATO, irking the Kremlin.
In another ex-Yugoslav nation, Slovenia, Orban's preferred candidate Janez Jansa won the most votes but in the end failed to form a government, showing the limits of Hungary's influence. Orban still holds a lot of leverage in the western Balkans, where countries are yet to join the EU and want to make friends with a member.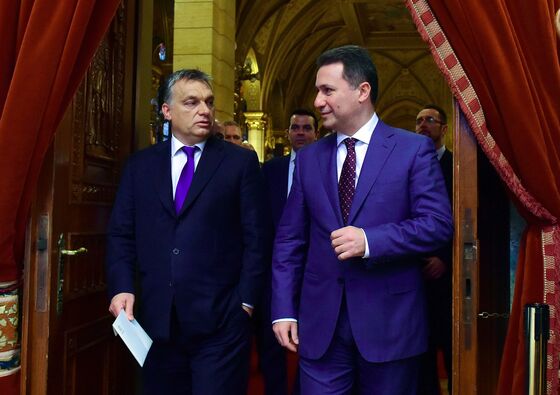 A more immediate goal for the Hungarian leader is to unite forces amenable to his anti-immigrant rhetoric for next year's elections for European Parliament, unnerving the bloc's mainstream political groupings.
"Orban is also seeking to cement his position for future fights in the European Union," said Zarko Puhovski, a political science professor at the University of Zagreb.
The Balkans have long been a hunting ground for Hungarian companies. The investments linked to Orban's entourage come on top of more traditional business links, which are also expanding.
OTP Bank Nyrt., Hungary's biggest lender whose chairman has cordial relations with Orban, has been buying lenders across the former Yugoslavia and in Bulgaria. Refiner Mol Nyrt. has fought a long legal and management dispute with the government in Zagreb about its INA subsidiary in Croatia, with active backing from Orban's administration.
Hungary's welcome to Gruevski, coupled with the refusal to extradite Mol's chief executive officer on a European arrest warrant issued by Croatia, shows Orban is willing to go against the EU. That's especially the case if he thinks it helps the the interests of his own nation or those of Russia, where he has cultivated a relationship with President Vladimir Putin, said Vesna Pusic, a former foreign minister in Croatia.
"The common denominator of Orban's influence in the western Balkans and broader in the central-eastern Europe region are not investments, but the illiberal regime, which fascinates the political elites," said Faris Kocan, a foreign policy researcher at the Ljubljana-based Center of International Relations.
Orban has also played a complicated game to secure commercial access to the Adriatic and Black seas for his landlocked nation, though Hungary's investment in a rail line to the port of Koper has encountered some resistance in Slovenia, Kocan said.
Next in line to join the local corporate power players active in the region is Lorinc Meszaros, Orban's childhood friend who quickly climbed Hungary's rich list by building holdings in industries from power plants to tourism. Opus Global Nyrt., his main investment holding, has declared itself ready for an international expansion push. The opposition has accused him of being a front for Orban's wealth, a charge both men denied.
Meszaros is building a stadium in Croatia, having purchased a soccer team in 2016, while the government in Budapest is lavishing subsidies on teams and academies in neighboring countries.
A company previously owned by Orban's son-in-law has also been active in Serbia, using its credentials established through Hungarian public contracts to win orders for street lighting, the Budapest-based weekly HVG reported, citing officials in Serbia and company records.
The government and its allies see Balkans policy as the pursuit of greater stability via EU integration and trade relations, according Anna Orosz, a researcher at the Institute for Foreign Affairs and Trade in Budapest, which belongs to a foundation set up by the government.
"Part of the reason Hungary is focusing so much on the region is that economic ties are increasingly growing," Orosz said. "Trading volume has jumped and there are more and more investments from Hungary."
The cabinet sees the region as "a line of defense" for the EU and will keep lobbying for its integration as fast as possible, Foreign Minister Peter Szijjarto said in a statement last week.