Oracle's Larry Ellison Discloses Tesla Stake, Sees 'A Lot of Upside'
(Bloomberg) -- Oracle Corp. founder Larry Ellison is a big believer in Tesla Inc. and defender of his friend Elon Musk.
Ellison went off script during an analyst meeting late Thursday to bring up the electric-car maker and its billionaire chief executive officer. He said Tesla is his second-largest investment, without being more specific.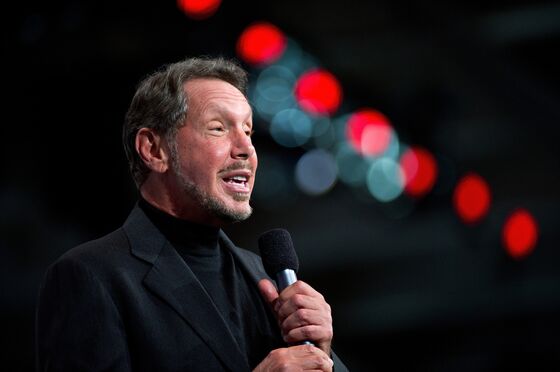 "Tesla had a good day," Ellison said, after a surprise profit sent the carmaker's shares surging more than 9 percent Thursday. "Tesla has a lot of upside."
Ellison, 74, was critical of how the media has covered Musk, who's has made no shortage of headlines lately. He briefly tried to take Tesla private, smoked marijuana on a podcast, attacked a cave diver and trolled the SEC. In addition to leading Tesla, he's CEO of rocket company Space Exploration Technologies Corp.
"This guy is landing rockets," Ellison said. "You know, he's landing rockets on robot drone rafts in the ocean. And you're saying he doesn't know what he's doing. Well, who else is landing rockets? You ever land a rocket on a robot drone? Who are you?"
Ellison later acknowledged that Musk has had trouble achieving goals to ramp up production of the Model 3 under the timelines he's set to motivate Tesla's employees. But he said he bought into the company before it started showing results after accompanying Musk on factory tours.
"Are there problems? Yeah, there's huge problems with Panasonic because you're trying to get these batteries to work and your primary cell manufacturer is having problems," Ellison said. "You have to work through that engineering. It's an engineering project. It's hard to get all these pieces together. But if you get all these pieces together, it's hard for other people to compete."
The Bloomberg Billionaires Index, a ranking of the world's 500 richest people, pegs Ellison's fortune at more than $51 billion. He's Oracle's largest shareholder with a 30 percent stake, according to data compiled by Bloomberg.