Options Markets Suggest Swiss Franc 'Flash Crash' Is a One-Off
(Bloomberg) -- While the Swiss franc's almost 1 percent drop gave currency traders a shock during Monday's Asia session, options suggest it's back to business as usual.
The franc plunged within a matter of minutes from 1.0004 per dollar around 7:00 a.m. in Tokyo to as low as 1.0096, the weakest since November, before almost as suddenly reversing the move. While the tumult follows other currency flash crashes during the so-called Asian witching hour, euro-Swiss franc implied volatilities remained within recent ranges and below their averages since the summer as demand for long gamma trades was subdued.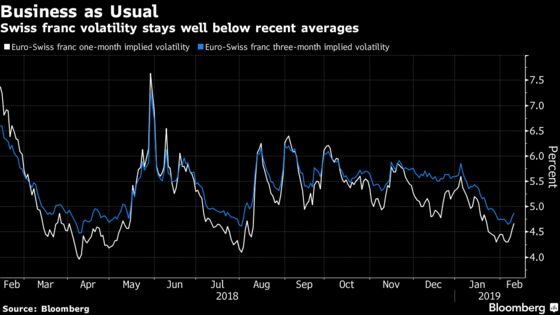 The currency whipsawed amid thin liquidity due to a holiday in Japan, according to three traders in London and Europe who asked not to be identified because they are not authorized to speak publicly. The traders didn't rule out the possibility of an incorrectly entered trade causing a flurry of algorithm-related orders to be triggered.
Demand for low-delta options over the three-month tenor, which captures Japan's week-long holiday in May, stands at its lowest level in nine months. The so-called butterfly trades at 78 basis points, which compares with a one-year average of 94 basis points.
NOTE: Vassilis Karamanis is an FX and rates strategist who writes for Bloomberg. The observations he makes are his own and are not intended as investment advice