Oprah Tells Miss Porter's Alums What She Wants to Buy Next
(Bloomberg) -- Almost everything I know about being a social columnist, I learned at Miss Porter's, the all-girl's boarding school in Farmington, Connecticut. I attended a few decades after Jackie Kennedy Onassis, Letitia Baldrige and Agnes Gund.
And I've learned plenty about interviewing people from watching Oprah Winfrey.
So when Winfrey, Gund and Miss Porter's joined forces with Sotheby's for a reception in New York Tuesday night, I was on it.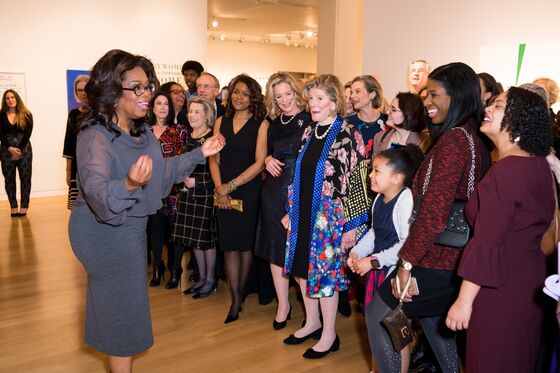 The occasion was a preview of works by women artists that will be sold to fund scholarships at the school, where annual tuition for boarding students is $60,625. While it may belie its history grooming upper-class women since 1843, the school says 38.9 percent of its students are receiving need-based financial aid, with 38.6 percent of those minorities.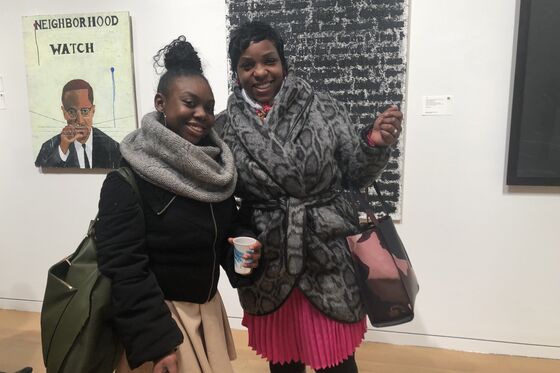 One of Winfrey's first public attachments to Miss Porter's was when she gave the address at her niece's graduation. My younger sister was in Chrishaunda's class, so I happened to be there. I remember taking in the procession of girls carrying a daisy chain -- a long, heavy garland of leaves and daisies -- with a mix of nostalgia and bewilderment. They looked so innocent. I'd just graduated from college. Winfrey joked about all the girls in their white dresses wilting in the rain, and told them there is no success without joy.
Fast forward to Tuesday night. The girls were all sophisticated women swanning around big, colorful paintings -- some in little black dresses, one with blue hair -- until they were swarming around Winfrey, holding up their phones to document the moment.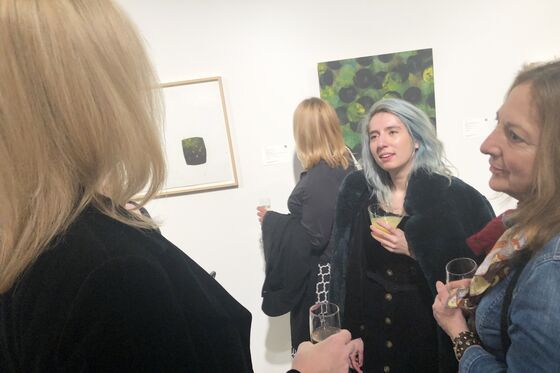 Though she'd lost about $39 million Tuesday after Weight Watchers stock dipped in late trading, Winfrey, 65, who's still worth about $3.4 billion, sounded joyful as she described how her niece enrolling at Miss Porter's had shaped her founding of the Oprah Winfrey Leadership Academy for Girls in South Africa.
"I saw how the experience of being taken out of a challenging environment and being brought into a world that respected and revered women changed the trajectory of her life," Winfrey said of her niece. "I wanted to do the same for the girls at my school."
Winfrey also funds scholarships at Miss Porter's and is an honorary chair of the Sotheby's benefit auction. "This is part of what I believe is an investment in the power of women," she said.
The chance to see the artists' work on the walls and meet some of them in person had made an impression.
"My own perspective has changed," Winfrey said about buying art. "I'm going to be consciously looking for women by women."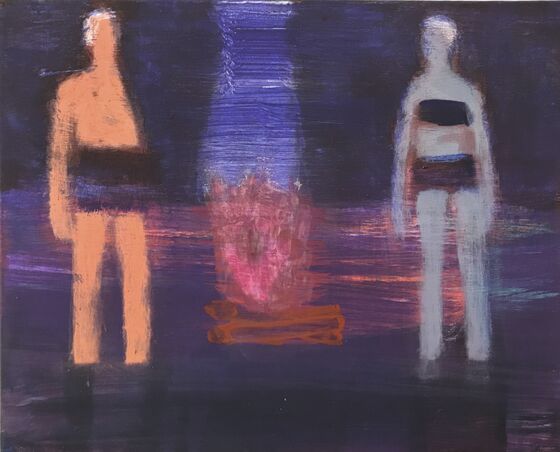 Sotheby's has lately been on a women-artist and celebrity kick. In January, Victoria Beckham came in for a reception and private tour of "The Female Triumphant," featuring female artists from the 16th to the 19th centuries.
Whether the Miss Porter's auction will benefit from the Oprah effect will be determined in the next week or so. A live auction on Friday will feature a Carmen Herrera work donated by Gund, president emerita of the Museum of Modern Art, as well as others by Jenny Holzer, Carrie Mae Weems and Miss Porter's graduate Katherine Bradford. There's also an online sale through March 7.
Artist Lily Stockman went to a co-ed boarding school, but grew up singing Miss Porter's songs her mom and aunt taught her. She was recruited for the auction by her New York art dealer Charles Moffett, whose father sold Edvard Munch's "The Scream" to Leon Black for $120 million when working at Sotheby's.
Proceeds of the Miss Porter's auction should bring in about $2 million, Sotheby's estimates.
Artist Roni Horn gave a work to the auction out of friendship with Gund and respect for Winfrey.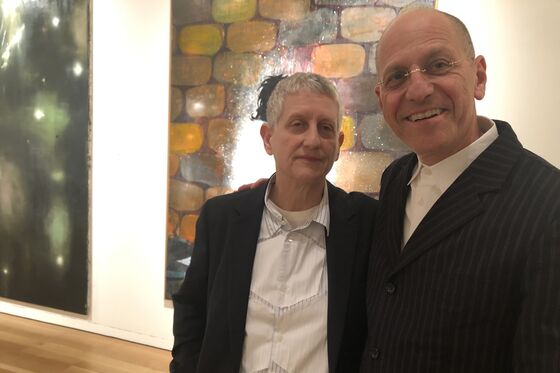 "Aggie is all I need to know," Horn said. "I'm a huge fan of Oprah because she's self-made and she built her self-respect out of her own ambition."
As for the advancement of women: "The big issue is self-esteem and the level of bias that exists in this culture, and you can't underestimate that bias," Horn said.
Preparing women to be confident leaders is exactly the mission of Miss Porter's, said board chair Karen Staib, a lawyer in Hartford. For me, it was a nurturing, creative setting where I first found my voice as a writer, and that has given me a network of strong, smart women I can depend on for laughs and advice -- not to mention skills navigating a cocktail party.