Opposition Races to Pick Single Candidate as Congo Vote Looms
(Bloomberg) -- Democratic Republic of Congo opposition leaders are heading to South Africa to try to agree on a single candidate to challenge President Joseph Kabila's anointed successor with time running out before the December vote.
Months after announcing they would back one person to run against Emmanuel Ramazani Shadary, there's still no consensus on who it will be. The delay is eroding the opposition's ability to capitalize on the broad-based support a single candidate could command. A failure to unify would fracture the opposition vote and increase Shadary's chances of becoming the next leader of the world's main source of cobalt and Africa's biggest copper producer.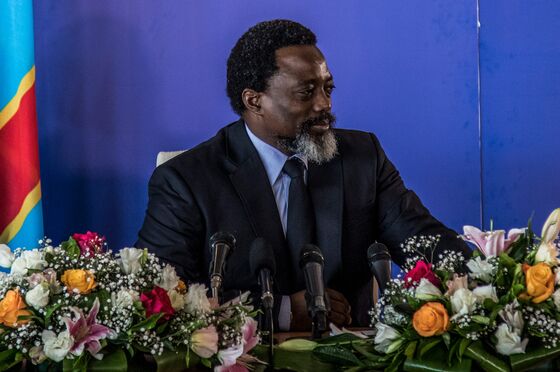 "It's essential the opposition designate a unity candidate as soon as possible," said Stephanie Wolters, head of the peace and security research program at the Institute for Security Studies in Pretoria, South Africa. "If you look at recent opinion polls, it's almost impossible that Shadary could beat a unity opposition candidate in credible elections."
While the official campaign for the Dec. 23 vote kicks off in late November, Shadary -- the nominee of the ruling Common Front for Congo, or FCC -- is touring the country and holding rallies. Opposition candidates already face challenges in getting their message out because most of their rallies have been banned or violently dispersed since September 2016.
The highest-profile candidates candidates still in the running -- Felix Tshisekedi, the head of Congo's largest opposition party, and Vital Kamerhe, who finished third in a 2011 presidential election -- are among the leaders traveling to South Africa this week, their spokesmen Paul Tshilumbu and Michael Moto said Monday from the capital, Kinshasa.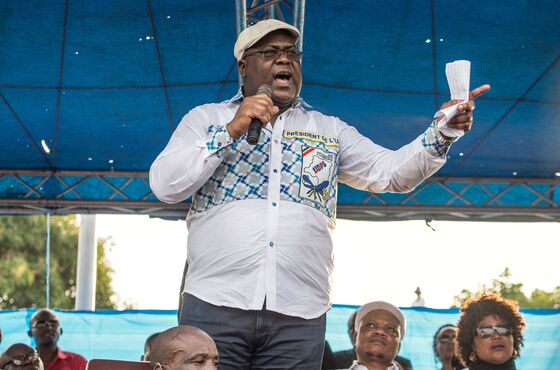 An opinion poll published in July by New York University's Congo Research Group found Tshisekedi and former Katanga Governor Moise Katumbi would be the most popular candidates, each gaining 19 percent of the vote. Jean-Pierre Bemba would finish just behind on 17 percent, the survey showed.
Election Manifesto
Katumbi, a onetime Kabila ally who has been in self-imposed exile for more than two years, was blocked by Congolese authorities in August from returning to the country to register his candidacy. Bemba, acquitted of war crimes by the International Criminal Court in June, has been disqualified by the electoral commission because of a second conviction by The Hague-based court for witness-tampering.
There are seven prominent opposition politicians who aspire to be the next head of state that have pledged to support a single candidate.
Kamerhe and Tshisekedi want the opposition's flag-bearer to be picked this month to have enough time to mobilize people and resources, Kamerhe and Tshilumbu said. Others, including Bemba, Katumbi and Martin Fayulu, who is authorized to run, want the seven leaders to agree on a common manifesto before selecting someone to head the campaign.
"We mustn't put the plow before the oxen," Bemba said in an interview. The leaders will discuss a common agenda and the candidate at their meeting in South Africa, Tshilumbu and Moto said.
Another issue sure to come up for debate is the demand that the electoral commission, known as CENI, reverse plans to use touch-screen voting that they've derided as "cheating machines" and in violation of Congolese law. They also insist on the removal of millions of voters from the electoral roll they say are fictional.
"We don't support the voting machines, but will not boycott the elections because that would be abdicating and giving a present to Kabila," Tshilumbu said. Bemba said a final and collective decision would eventually need to be made on how to respond if CENI doesn't acquiesce.
The opposition leaders' popularity is geographically concentrated, so pooling votes will be crucial not just to winning the presidency, but also the national and provincial parliaments which choose the prime minister, senators and 26 governors.
Katumbi, Bemba, Kamerhe and Tshisekedi can all marshal considerable support in different parts of the country. Three of the still eligible candidates are bound to be disappointed but they, as well as the excluded potential kingmakers, say the primary goal is to defeat Kabila's candidate.
"I will bow to it and campaign with my base for whoever is chosen," Kamerhe said in an interview. "If anyone plays solo, he'll lose the opposition the opportunity to have a real change of power."