OPEC's Push to Cut Even Deeper Shows Price Warriors Were Right
(Bloomberg) -- Four years ago, the OPEC secretary-general was defending the group's decision to refuse production cuts and unleash a price war aimed at driving high-cost rivals including U.S. shale out of business.
"If we cut in November, we'd have to cut again in March, or in June," Abdalla El-Badri said on stage at the Davos World Economic Forum in January 2015. "We'd have to cut again because non-OPEC supply will be higher, they will keep producing."
The Organization of Petroleum Exporting Countries eventually abandoned that strategy, unable to withstand the economic pressure as crude slumped as low as $27 a barrel. El-Badri retired and the architect of the price war, Saudi Energy Minister Ali Al-Naimi, was replaced.
Yet history proved them right.
Fast forward to the present day, and Al-Naimi's replacement Khalid Al-Falih has led OPEC and allies including Russia through two years of production cuts, only to see prices collapsing again and U.S. shale output shattering new records.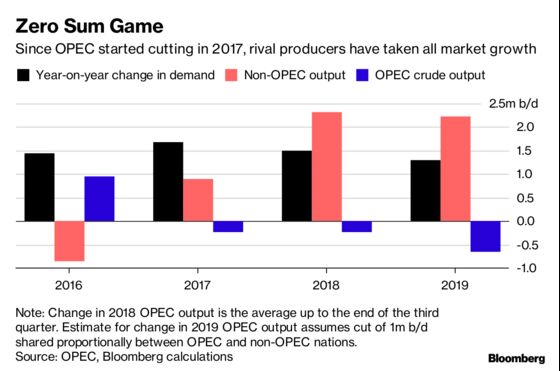 Al-Falih's answer to this familiar dilemma -- another 1 million barrels a day of production cuts shared with its non-OPEC allies, on top of the 1.8 million-barrel reduction agreed two years ago.
While its true that Saudi Arabia and Russia have increased production significantly since June, they were only acting to offset unplanned losses from other members such as Venezuela and Iran. In October, OPEC and its allies were in aggregate still fully implementing the 2016 cuts, according to the group's Joint Technical Committee.
OPEC predicts global oil demand will increase by 1.3 million barrels a day next year, while non-OPEC output will grow by 2.2 million barrels a day. That's a simple mathematical proof of El-Badri's argument four years ago:
"OPEC will cut and they will replace us."