OPEC-Russia Said to Weigh Supply Boost by Ending Excess Cuts
(Bloomberg) -- OPEC, Russia and their allies are discussing a plan to boost production for the first time since 2016, said people familiar with the matter, responding to soaring prices that have made consumers anxious.
The proposal would end a period where the group made significantly deeper output reductions than specified in their original agreement, while also preserving the political and economic alliance between Moscow and Riyadh that has reshaped the global oil market and the balance of power in the Middle East.
The group is still debating whether resuming normal compliance with the accord would mean nations individually return to 100 percent compliance with their targets, or whether the group as a whole would aim for that level, the people said, asking not to be identified because the talks are private.
The first case would return only a limited amount of supply to oil markets, mainly from Saudi Arabia. The second could allow the group to boost output more significantly, as other members offset losses from the collapse in Venezuela's oil industry. Oil producers are debating an increase ranging from 300,000 barrels a day at the low end, backed by Gulf producers including Saudi Arabia, and a larger increase of about 800,000 barrels a day favored by Russia, one person said.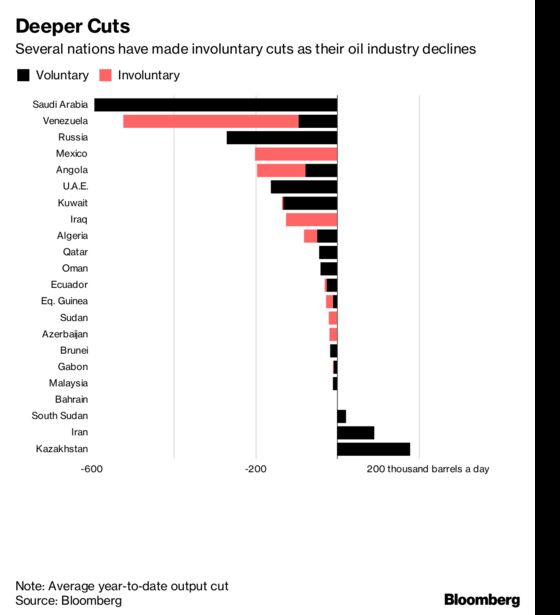 Last month, the Organization of Petroleum Exporting Countries and its allies said they exceeded their pledged 1.8 million barrel-a-day supply reduction by 49 percent. Saudi Arabia has been voluntarily making additional curbs, while countries including Venezuela, Angola and Mexico are involuntarily cutting deeper due to the decline of their oil fields. Iran, the group's third-largest producer, has also been hit by renewed U.S. sanctions that could significant curb its oil exports later this year.
The proposal, which would have to be finalized at their meeting in June, shows major oil producers are responding to consumers' concerns about the effect of crude prices near $80 a barrel. The International Energy Agency, which advises major consuming nations, said last week that the supply glut is gone and high prices are starting to hurt demand.
Brent crude dropped as much as 0.9 percent to $78.10 a barrel as of 9:06 a.m. in London. The international benchmark has risen 17 percent this year, reaching the highest level since 2014 last week.
Russia and Saudi Arabia share common view on "consuming countries' anxiety and concerns over potential supply shortages," Saudi Energy Minister Khalid Al-Falih said in an interview early Friday in St. Petersburg, Russia, after meeting his counterpart Alexander Novak.
"We will ensure that the market remains in its trajectory towards rebalancing, but at the same time we will not over-correct," Al-Falih said. While scaling back the supply caps is "on the table," no decision has been made, he said.
Saudi Arabia has shown a desire for higher prices to bankroll domestic economic reforms and underpin the valuation of its state oil company in a planned initial public offering. Brent crude has been flirting with the kingdom's desired price of about $80 a barrel for most of this month, and the proposal to boost supplies suggests it doesn't want to see it go much higher.
In the past, oil prices close or above $100 a barrel have brought significant political pressure from consumer countries. U.S. President Donald Trump directed his ire against OPEC last month, saying in a tweet that "oil prices are artificially Very High! No good and will not be accepted!"